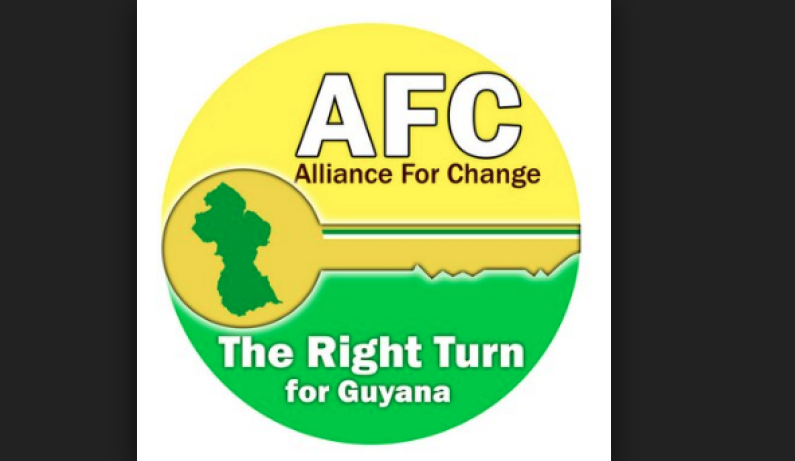 The Alliance For Change on Sunday announced that it will contest the upcoming Local Government Elections on November 12 on its own and not as part of the APNU+AFC Coalition.
The party is blaming "inconclusive negotiations" with APNU and the reason for its decision. However, the party was quick to point out that the go it alone decision "only applies for LGE 2018 and does not, in any way, affect the APNU+AFC Coalition Government, nor does it, in any way, change the AFC's position on coalition politics at the national level. The AFC remains, and reaffirms that it is, committed to the APNU+AFC Coalition."
The party's Management Committee has now been resolved into the LGE Campaign Committee and is being chaired by David Patterson who has been appointed Campaign Director.
Patterson is the current Minister of Public Infrastructure in the APNU+AFC coalition government.
The party said it is in full preparation mode for LGE, and has been hosting meetings in the various constituencies and identifying potential candidates who will be subject to a rigorous internal vetting process before official appointment.
"Candidates will be addressing the local issues which are of concern to citizens and working collaboratively to find practical and implementable solutions", the AFC noted.
The party said it is currently determining which municipalities and constituencies it will strategically contest as it does not envision contesting in each Neighbourhood Democratic Council and in every constituency of all municipalities until subsequent election cycles.
Just two weeks ago, the General Secretary of the People's National Congress, Amna Ally, indicated that the APNU had already started its campaigning across the country.
While the APNU and AFC went into the last Local Government Elections as coalition partners, there was no formal agreement in place and that created a number of issues at the municipal levels where the two served. In many instances there were disagreements among the two although they were serving as one.