Former Minister of Finance under the last PPP Civic Government Ashni Singh and former Privatisation Unit and NICIL Head, Winston Brassington both flew into Guyana overnight and made appearances in Court this afternoon to answer charges of misconduct in public office.
The two former government officials were granted bail in the sum of $6 Million each.
Several officials of the former PPP Civic Government, including Former President Donald Ramotar and Former President Samuel Hinds were in Court today for the hearing.
In Court, the two men were told that they were not required to enter a plea to the three indictable charges.
One of the three charges read by Chief Magistrate Ann McLennan alleges that in December 2008, the two sold a plot of land which was evaluated and worth $340 million for $150 million.
The other two charges allege that Singh and Brassington also sold plots of land for $185 million and $598 million without any evaluation to the Giftland Mall and National Hardware Limited respectively.
Former Attorney General Anil Nandlall entered an appearance for the two gentlemen. He was joined by seven other high profile attorneys including former Minister Priya Manickchand, Ronald Burchsmith, Stanley Moore, Sase Gunraj and Mark Waldron.
Nandlall initially asked the Court to release the 45-year-old Ashni Singh and 50-year-old Winston Brassington on their own recognizance, but the Prosecutor objected and asked the Court for bail be set at a substantial sum.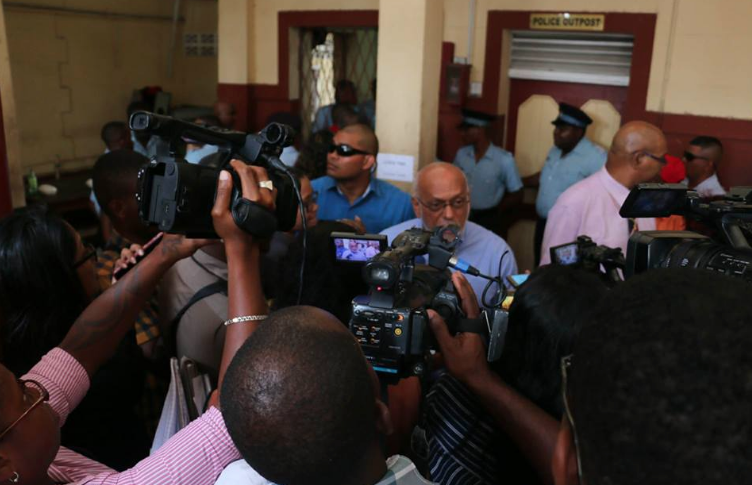 Singh and Brassington were granted bail in the sum of $2 million on each of the three charges, but Nandlall again protested and told the Court that the amount it was beyond his clients reach and asked for a reduction to $1 million.
That application was denied but Magistrate Mclennan allowed for a surety to be accepted instead in the absence of cash. That surety could include valuables such as land.
Mr. Nandlall told the Court that the charges were the first of their kind in Guyana with no judicial guidance in the form of precedence.
He also pointed out that once found guilty, the two former officials could spend a maximum of one year in prison. The Attorney told the Court that the charges appear more like political victimization.
"The charges are an expression of political victimization against my clients… it is unfortunate that the administration of justice is being contaminated," he told the Court.
He told the Court that when the time arises, his clients will enter pleas of not guilty to the charges. The case will come up again on the 5th June.
Following their appearance, Singh and Brassington were taken to the prisoners' holding area as their Attorneys and supporters worked on securing bail.
The charges against the former high-ranking government officials were filed by the Special Organised Crime Unit of the Guyana Police Force and was based on a forensic audit of various government departments, which took place just after the new government came to power in 2015.