Former President of Guyana, Donald Ramotar, has described as "political vindictiveness", the charges filed against his former Minister of Finance, Dr. Ashni Singh and the former head of the National Industrial and Commercial Investments Ltd., Winston Brassington.
The two men returned to Guyana overnight and appeared in Court this afternoon, where they were handcuffed and placed in the prisoners' holding area after being granted bail in the sum of $6 Million each.
Former President Ramotar, along with several other former PPP Government officials, was at the Courthouse and told reporters after that he feared that Guyana may be returning to a time when political opponents were victimized.
"My concern is a bigger concern than just this incident. We have had this experience before, under the PNC regime in the 28 years that they were in power, and we are going right back there at a rapid pace. What I think is happening in our country is that there is an undermining of our democratic institutions and there are trying to subvert our constitution. And all the measures that we are seeing of our important institutions are being undermined and this is political vindictiveness. This is going to rob us of some of our most important human capital, to make a contribution to the development of this country", Ramotar said.
The former President added that the current government needs to learn that "you cannot run a country by vindictiveness, racial and political victimization as we see taking place here today".
The Coalition Government has said the Special Organised Crime Unit, which filed the charges, has been working on its own with no political interference and its investigations are based on forensic audits that have taken place at various government departments.
Still, Ramotar said the charges are "frivolous" and that is the reason behind the decision by the Attorneys of the two former Government officials to move to the High Court to seek a full dismissal of all the charges.
He said Singh and Brassington "have done nothing" since they were working under the former Cabinet and the Board of NICIL.
"They have committed no crime", he said.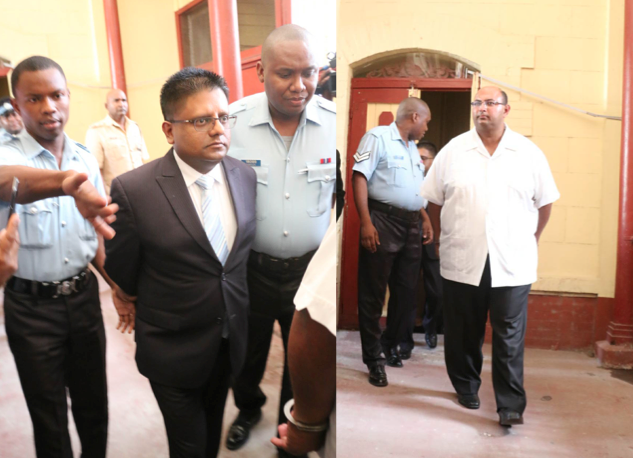 The Former Minister of Finance under the last PPP Civic Government, Dr. Ashni Singh and former Privatisation Unit and NICIL Head, Winston Brassington appeared in Court this afternoon to answer charges of misconduct in public office.
The two former government officials were granted bail in the sum of $6 Million.
Several officials of the former PPP Civic Government, including Former President Donald Ramotar and Former President Samuel Hinds were in Court today for the hearing.
In Court, the two men were told that they were not required to enter a plea to the three indictable charges.
One of the three charges read by Chief Magistrate Ann McLennan alleges that in December 2008, the two sold a plot of land which was evaluated and worth $340 million for $150 million.
The other two charges allege that Singh and Brassington also sold plots of land for $185 million and $598 million without any evaluation to the Giftland Mall and National Hardware Limited respectively.
Former Attorney General Anil Nandlall entered an appearance for the two gentlemen. He was joined by seven other high profile attorneys including former Minister Priya Manickchand, Ronald Burchsmith, Stanley Moore, Sase Gunraj and Mark Waldron.