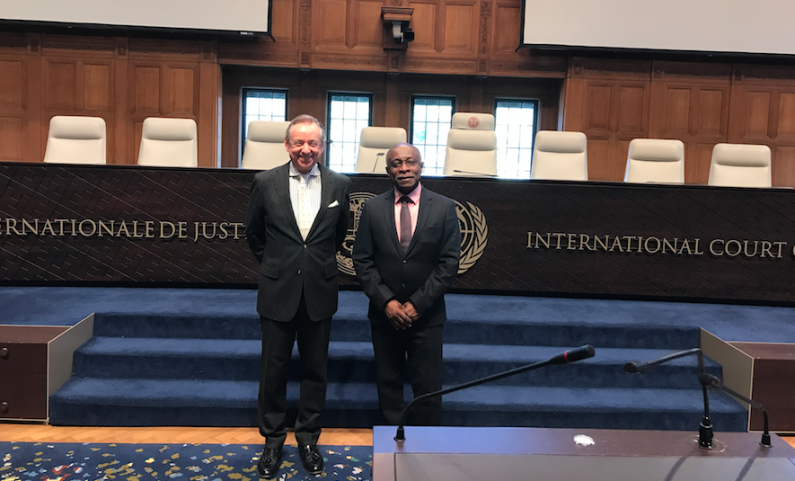 One week after Guyana declared that its border case against Venezuela is in good hands with the legal team assembled, the Ministry of Foreign Affairs has announced the official filing of the Application to the International Court to begin hearings on the matter.
The filing was done today by Guyana's Minister of Foreign Affairs, Carl Greenidge at the International Court of Justice in The Hague.
In its Application to the Court, Guyana highlighted that Venezuela had, for more than 60 years, consistently recognized and respected the validity and binding force of the 1899 Award and the 1905 Map agreed by both sides in furtherance of the Award, but Venezuela changed its position in in 1962 as the United Kingdom was preparing to grant independence to Guyana.
Guyana gained independence in 1966 and has been dogged by the Venezuela claims since then.
"Guyana 's Application notes that while Venezuela has never produced any evidence to justify its belated repudiation of the 1899 Award, it has used it as an excuse to occupy territory awarded to Guyana in 1899, to inhibit Guyana's economic development and to violate Guyana's sovereignty and sovereign rights", the Foreign Ministry said. 
The move to the ICJ follows the referral by the United Nations Secretary General.
Guyana has been fiercely pushing for a juridical settlement since the new government came to office two years ago.
Former Commonwealth Secretary General and former Guyana Foreign Minister Sir Shridath Ramphal is leading Guyana's legal team.
Last week he announced that the same legal team that fought and won the maritime case against Suriname has been brought together again to "finish the job".
He has also brushed aside Venezuela's criticism of the move to the International Court and its claim that it will not agree to the Court's findings.
He said that will be an issue for Venezuela, but Guyana will move ahead on the issue.