Parents of students attending the Brickdam Secondary School on Wednesday threw their support behind students and teachers as they protested the closure of the Brickdam Secondary School by the Ministry of Education.
The Ministry met with parents and teachers on Tuesday where they announced the move to temporarily close the school and have teachers and students transferred to other schools around Georgetown and Region #4.
The move came several days after teachers staged a sit in protest against the conditions under which they work. While the teachers and parents are protesting the deplorable condition of the school and the risk posed to their safety, they remain unhappy with the Ministry's decision to separate students and teachers by placing them at several schools.
They want the Ministry to have students and teachers move to a site where they can all be accommodated while receiving instructions from their present teachers, even if they are made to do so on a shift system. Ministry Officials were Wednesday handing out placement letters to teachers and finalizing the movement of students.
But outside the school premises, the protest grew larger and louder with parents and teachers claiming that the Ministry has not articulated clearly its plans for returning the children to a school where they will be educated under one umbrella. Some fear that the move to close the school could be permanent.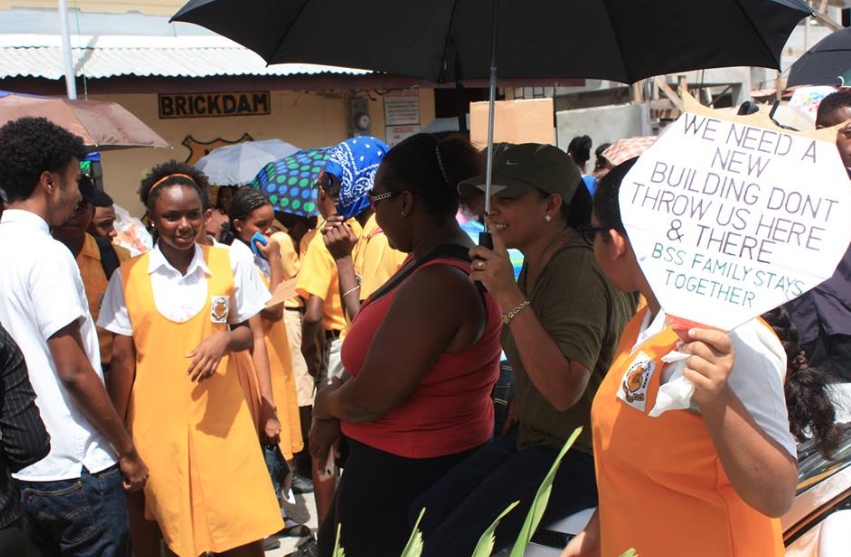 There was some amount of distrust by parents towards the guarantee of the Ministry in this regard. Students have already been affected by the fiasco which has been ongoing for several days. Parents complained that the arbitrary removal and placement of the students in other schools is likely to adversely affect them further.
They are also concerned with the upcoming end of term evaluation of the students which will determine their promotion in the new school year. The Guyana Teachers Union said it doesn't believe the move by the Ministry of Education was well thought out and described it as hasty.
The union has also backed the call by parents to have all the students placed at one location, even if it is on a shift system. The Ministry of Education has a press conference slated for later this afternoon. (Kurt Campbell reporting)