British High Commissioner to Guyana, Greg Quinn believes that corruption and money laundering are still problems in Guyana that ought not to be ignored.
He made the comments this morning  at a seminar on Anti-Corruption, Anti-Money Laundering and Asset Recovery, which was organized by the Special Organised Crime Unit (SOCU).

The High Commissioner reasoned that too many persons still think that they can get away with corruption and financial abuse. He emphasized that if Guyana is to continue to grow and to use future resources for the betterment of all, it will be necessary to address both issues. 

Pointing to the 2016 Transparency International Corruption Perception Index, which highlighted an improvement in Guyana's ranking, the High Commissioner in an analysis, stated that corruption still remains endemic in the country's public sector.
But he said he is happy that the Government has made clear its desire to stamp out both "cancers" and equally important recover ill-gotten gains from those guilty of such activities.
The High Commissioner believes it is happening at the right time as he lauded those involved in confronting the issues head on and reiterating the British Government's committed support.
While stating the UK's position on Corruption and Money Laundering, Mr. Quinn said the two problems have become "a cancer" that reduces the availability of money available to Governments to do "day to day" business to improve the life of citizens.
To a gathering of those likely to be affected by a correlation of either, High Commissioner Quinn stated that the problems also have a direct impact on the citizens of a country and their ability to live their lives.
He added that corruption undermines trust and confidence in Governments and businesses.
Regardless of one's stature in society, there should be no impunity when it comes to corruption as corruption is at the heart of many problems that affects the Globe.
The need for better salaries in public sector was also underscored.
The British Government's general position is that corruption should be exposed ensuring nowhere to hide, the corrupt should be perused and punished and those who have suffered from corruption should be supported and corruption should be driven out where it exists.
For Attorney General and Legal Affairs Minister, Basil Williams, the areas highlighted for emphasis during the seminar are those which the Government of Guyana is not taking lightly.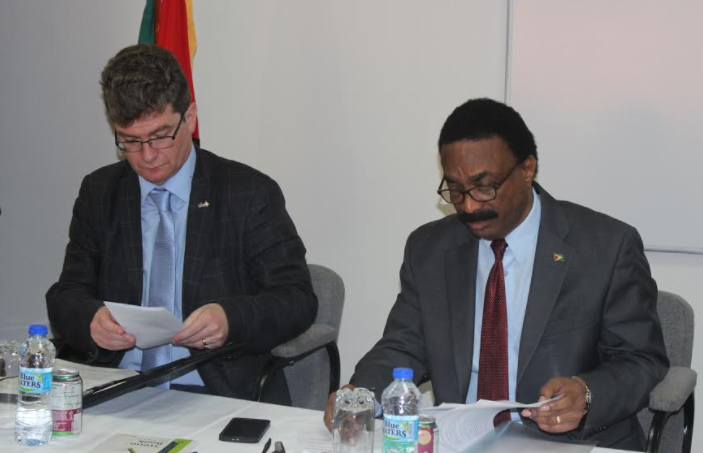 The Attorney General pointed to several legislative measures, like the State Assets Recovery Bill, Whistle-blower Bill, Witness Protection Programme and the setting up of SARA all being undertaken by the Government and aimed at combating corruption.
The Attorney General pointed to the importance of agency collaboration in and out of Guyana as a tool to combating corruption.
"This is necessary as corruption causes especially complex money laundering cases – will require censure, detention, freezing and forfeiture or asset recovery efforts beyond our shores"

British Financial Investigation Expert – Sam Sittlington in his address and presentation expressed confidence in the passage of the SARA Bill. His presentation focused on bribery and corruption, indicators and examples, finances, among other aspects.  (Handel Duncan)