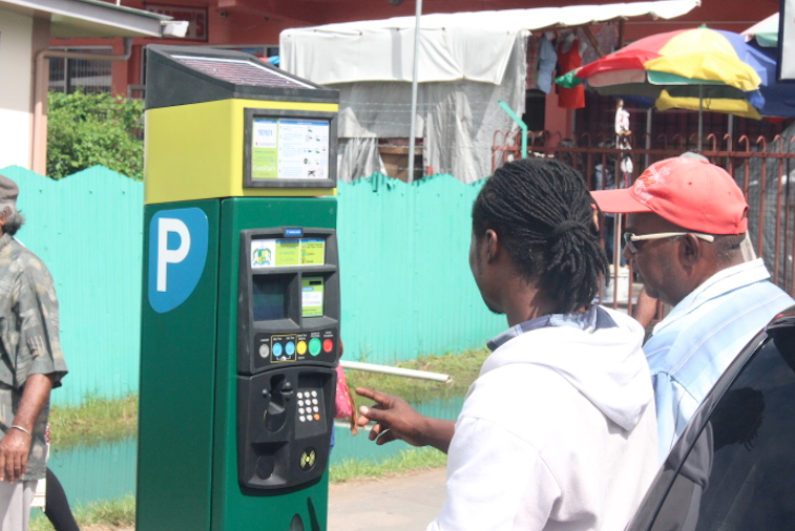 Senior Officials of the Government have indicated to News Source that the parking meter impasse formed part of the discussions at Tuesday's cabinet meeting and the government is likely to press the City Council and the Smart City Solutions company to reduce the fees for parking as well as the penalties attached to flouting the by-laws.
President David Granger is expected back in Guyana from Haiti by today and he is to be fully briefed on cabinet's views.
Government sources familiar with the discussions have indicated that the President wants to meet with the Town Clerk on the issue. That meeting could take place before the end of this week.
The sources who spoke to News Source indicated that most members of the cabinet believe that the fees are too high and could cause a major headache for persons who drive to work in the city.
There are reports that the company has been asked to come up with a special package for workers who may want to have their cars parked outside their offices in the meter zones.
Officials of the Smart City Solutions Company and City Hall are expected to meet with government officials today.
Meanwhile, there are reports that some members of cabinet were not pleased with the AFC's statement that was sent to the media on the issue yesterday.  A source said the AFC's statement was issued after cabinet would have already discussed the issue and therefore the party leaders would have known that cabinet was addressing the matter.
The AFC makes up part of the APNU+AFC coalition. In a statement yesterday afternoon, the party called for the entire project to be suspended, pointing to the costs attached to parking and the way the project was being implemented.