Former Junior Social Protection, Simona Broomes will continue to champion the cause of workers' rights in the mining sector under her new portfolio as Minister within the Ministry of Natural Resources.
Broomes was transferred to the newly reconstituted Ministry by President David Granger, who also announced the appointment of Raphael Trotman as the Minister of Natural Resources.
At a press conference on Wednesday, Minister Broomes made it clear that she will be taking her aggressive labour fight to employers in the Mining and Forestry Sectors.
"I want o thank the President for this new appointment. For many years the rights of workers have been badly treated and I'm here to put an end to that. I'm here to serve and will do just that," she said.
Minister Broomes said she wants to create a leveled playing field in the mining sector and that will be one of her priorities.
The new Minister within the Ministry of Natural Resources was backed up by her senior colleague, Minister Raphael Trotman, who noted that her responsibilities will be to oversee the occupational health and safety of employers in the sector and to ensure compliance to mining and labour laws. She will overlook the mining and forestry sectors under her new portfolio.
Trotman said he is pleased to have Broomes at his side while acknowledging the wealth of knowledge she brings to the table.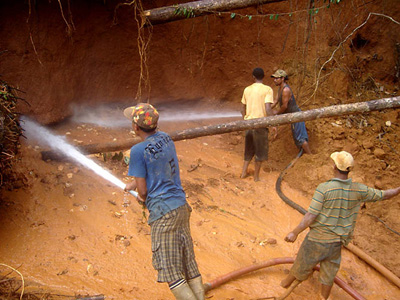 Broomes worked as a miner herself before assuming her Ministerial responsibilities and served as the President of the Guyana Women Miners Organization.
She also used the opportunity to dispel any fear of a conflict of interest in light of her still being the holder of three mining properties.
Minister Trotman weighed in on the matter and said that if there is a matter that comes up involving the mining properties that are owned by Minister Broomes, he will be the one dealing with the issue.
Although the properties are owned by Broomes, she is not directly involved in the activities there since there is an agreeement with a mining company to conduct its operations on the property.
President David Granger has explained that his decision to move Broomes from the labour department to the Ministry of Natural Resources is to make use of her knowledge of hinterland and mining issues.