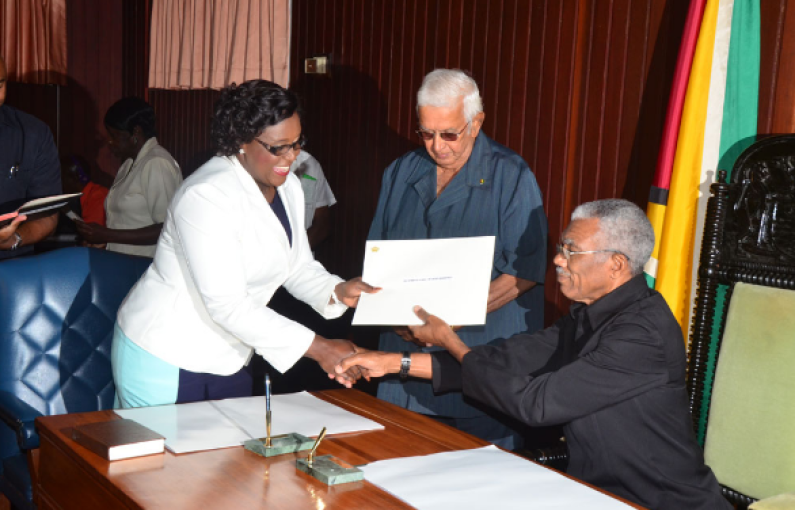 President David Granger has rejected calls for Junior Natural Resources Minister Simona Broomes to be removed from within the Ministry in wake of allegations that there may be conflict of interest with regards to the transfer of her mining interests to her children.
She worked a a gold miner for decades before taking up a government position following last year's elections. She was first stationed at the Ministry of Social Protection and overlooked the labour portfolio.
Months after removing her from the Ministry of Social Protection and placing her within the Ministry of Natural Resources, President David Granger has been faced with fresh calls for Broomes to be transferred to yet another Ministry.
But on Thursday the President trashed those calls and said there is no need for him to reshuffle any of his ministers at this point.
The Minister's involvement in mining has again come under the microscope following reports that she transferred all of her mining interests to her children.
 The President said he was alerted to the situation recently which he immediately investigated, adding that he is satisfied with the explanation given by Minister Broomes along with legal advice he has also secured.
Broomes met with the media earlier this week and maintained that she has relinquished all her mining interests.
 "The functions she performs do not necessarily come into conflict with the fact that her children have interest in the sector," Mr. Granger said.
The President insisted that there was no need to have her removed. "We have a draft of conduct and if any situation should arise she would be put in a different place or demit office," he added.
Minister Broomes said her work prior to becoming a government minister was transparent and she intends to leave a legacy that is also transparent whenever she leaves office.