A number of women miners have broken their silence on the issue of alleged conflict of interest involving Junior Natural Resources Minister Simona Broomes.
On Tuesday the women threw their support behind Broomes who worked in the mining industry for over two decades.
The women miners said it is time the issue be put to rest and the Minister be allowed to perform her duties for all miners, particularly the disadvantaged small man and women in the industry.
They are condemning what they say is an unnecessary attack against the Minister by persons within the industry, particularly Guyana Gold and Diamond Miners Association (GGDMA).
The women miners were very critical of the GGDMA, a representative body for miners in the industry and believe that Minister's Broomes presence at the Ministry stands to benefit all small and medium scale miners.
The GGDMA had supported the contention that Broomes' transfer of assets to her children and her indirect involvement in the industry was conflicted with her responsibilities as Minister. The miners, including Carol Fredricks and Judtih Blair, who founded the Guyana Women Miners Organisation (GWMO) along with Broomes, rejected the reasoning at a press conference on Tuesday.
"GGDMA is in no order to speak on conflict on interest based on their history with the previous government," Blair said.
"The fact of the matter is that Minister Broomes will call a spade, a spade and because she is a fighter for the ordinary man the GGDMA is afraid that the chains of oppression will be broken off the small miners. We have been held captive for too long in this industry. Minister Broomes is our only hope," she added.
The women miners agreed together that there was no conflict of interest since the Minister is not attached to the Guyana Geology and Mines Commission or anything pertaining to recommending ownership of lands and permission to work.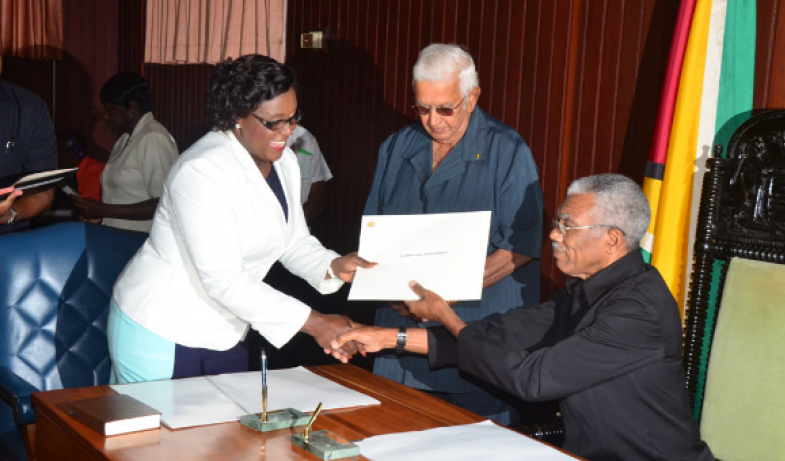 Blair said GGDMA has members who sit on Boards that are responsible for all decision making in the industry and believe attention should be given to this fact. "Is it that some people are really concern about conflict of interest or is it the cut in corruption and their involvement at the GGMC that is their concern?" she questioned.
The women complained bitterly of being disadvantaged as female miners in the industry over the years, some claimed they have not been able to work for several years because of unavailability of lands and high tariffs being demanded by land owners. They trust that Broomes' involvement within the Ministry, coupled with her 28 years of mining and fighting for women rights, serves as an asset.
The women called on the government to revisit the proposals and other tax benefits that have to go through the GGDMA. "These benefits never filter down to the small miners. We need a level playing field so as to promote a better way of life doe all."
They also want the disrespect towards Minister Broomes to stop now and thanked President David Granger for appointing her as a Minister of his government. (by Kurt Campbell)