Retired Chancellor of the Judiciary, Justice Cecil Kennard, held no punches back in his recommendations following his completion of a Commission of Inquiry into the affairs of the Georgetown City Council.
In his report, which was obtained by News Source, Justice Kennard said the Guyana Police Force and the State Asset Recovery Agency should be called in by the Local Government Commission to recommend the type of criminal charges to be laid against Town Clerk, Royston King.
The report found that King was involved in gross misconduct, dishonesty and recklessness while in office, in addition to abusing his office of Town Clerk while misappropriating funds and being conspiring with others in several questionable and corrupt actions at City Hall."While it is the easiest of recommendation to make, this officer should be terminated, and criminal charges should be laid against him in respect of his actions. The SARA and the Guyana Police Force should lead a joint probe to ascertain the relevant criminal charge(s) to be laid. In the alternative there are civil remedies, the LGC can approach the Court to grant orders to trace his assets and at the same time freeze same", Justice Kennard stated in his report.
The Commission of Inquiry has also recommended that in respect to the Town Clerks's Department, all senior officers should be terminated, "as they all seem to be collaborating with the corruption of the Town Clerk".
He said the Commission of Inquiry also found itself as being of the view that "there seems to be some sinister motive on behalf of the Council to cover up the corrupt dealings of the Town Clerk".
A new Georgetown City Council was sworn into office last Friday. The new Council is expected to study the contents of the report as part of its process of moving forward.
The Commission of Inquiry has also recommended that the no-confidence motion against the Town Clerk, that was not allowed to be moved forward under the last Council, should be moved forward and sent to the Local Government Commission for action.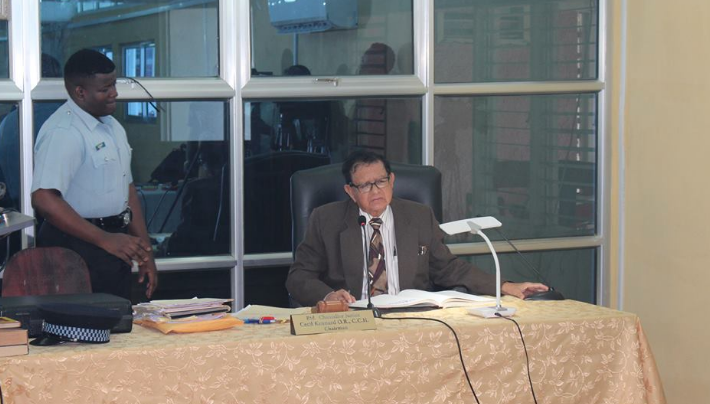 The report also roasted several other officers of the Council over their incompetence and dereliction of duty and recommends that disciplinary action be taken against them too. It has also called for the council to fill the vacant position for a Legal Officer in the Council.
The Council has been operating without an in-house legal officer and whenever legal matters would come up, the Town Clerk would call on a lawyer of his choice to offer advice. In a matter that dealt with issues surrounding him, King once turned to his personal lawyer to offer legal advice to the municipality.
The report also addresses and make recommendations on a number of other issues related to the Georgetown City Council and its management. The report follows several weeks of testimonies being provided by various stakeholders.