Guyana is observing Cancer Awareness month all this month and today the Ministry of Health revealed that cancer is now the fifth leading cause of death in Guyana.
At the launching of the Ministry of Public Health's observances today, Minister within the Ministry of Public Health, Dr. Karen Cummings, revealed the way of life of many persons is one of the reasons behind the increase in cancer cases.
She said "the influx of fast food industries, lack of physical exercise, tobacco and alcohol use and irresponsible sexual behaviour, contribute to this rising toll. However, these are all avoidable causes".
Dr. Cummings said it should be noted that breast cancer and cervical cancer are the two leading cancers in Guyana. She said while cancer screening and treatment in Guyana remain limited, those limitations do not clearly explain the rising numbers.
The junior Public Health Minister announced that the Government, through the Public Health Ministry, will be rolling out a number of programmes and activities in an effort to curb the cancer epidemic.
"Some of these activities include appropriate staffing of the chronic non-communicable disease unit, allotment of adequate budgetary resources, training of health care professionals in the area of oncology, public private partnerships with non-governmental and non-profit organisations, research and surveys, establishment of an oncology unit at the Georgetown Public Hospital and robust screening and preventative methods available free of cost", Minister Cummings said.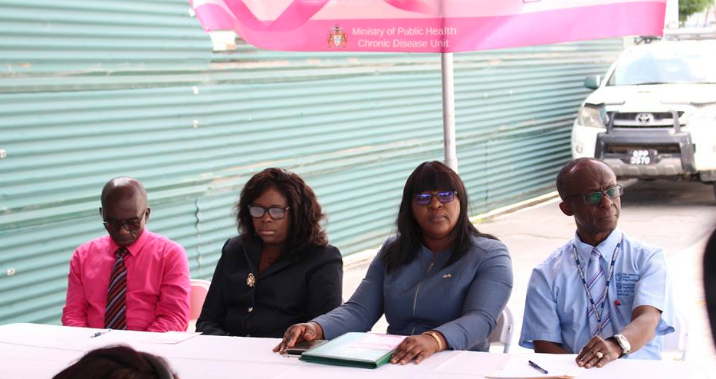 The Ministry of Public Health in collaboration with the World Health Organisation/Pan American Health Organisation, currently have a campaign ongoing that is encouraging parents to ensure their young daughters get the HPV vaccines, which significantly reduces the the possibility of cervical cancer,
She said the Government will also continue to look at implementing policies and legislation that can be more supportive of the efforts to fight various cancers.
The PAHO/WHO representative in Guyana,  Dr. William Adu-Krow, also spoke at the launching and he reminded that cancer does not discriminate and easily makes any man, woman or child, its victim.
He said the impact of cancer stretches from the family and the home to the national landscape and therefore it must not be taken easily.
Dr. Adu-Krow said PAHO/WHO will continue to partner with Guyana in the ongoing efforts to raise more awareness of cancer and to better assist in the fight.
For the entire month of October, several programmes and activities will take place across the country to raise cancer awareness.