With breast cancer being the leading cancer in Guyana, more women are being reminded that early detection could save their lives and as such they are being encouraged to get screened early.
Yesterday, First Lady Sandra Granger joined representatives from GTT and the Cancer Foundation to wrap the trees along the Camp Street Avenue in pink as part of the Breast Cancer Awareness month activities.
The First Lady commended GTT for championing the awareness drive on breast cancer and encouraged women to ensure they get screened early.
Georgetown Mayor Patricia Chase-Greene and GTT Marketing Director Davi Sukhdeo also spoke about the importance of fighting breast cancer. They said there must be a united fight and the disease should not be taken lightly.
GTT has announced that Pinktober activities will continue throughout the month of October with one of the major events being the Walk/Run/Cycle Marathon, which is slated for October 20, 2018.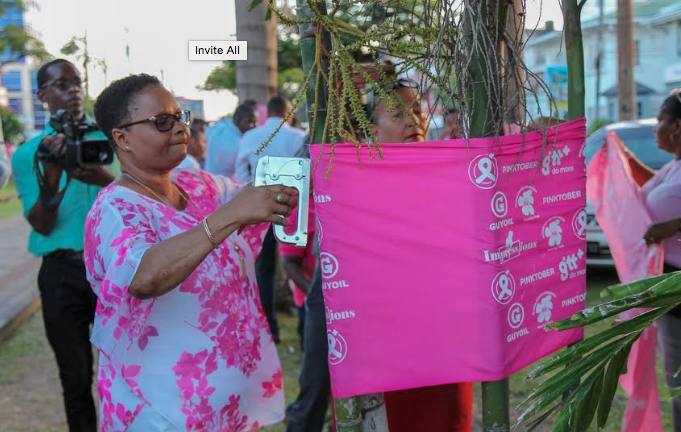 GTT's Public Relations Specialist, Jasmin Harris, stated that "everyone is touched by cancer, and as such GTT believes it's our duty to continue to champion the cause with our Pinktober activities, not only by raising the awareness but also getting all of Guyana involved, from corporate to individual involvement, to help raise funds to assist those battling cancer; our cancer warriors."
The Public Health Ministry revealed yesterday that cancer is climbing to become the fifth leading cause of death in Guyana.