Local telecommunications giant, GTT, has handed over a cheque of just over 4.7 million dollars to the Guyana Cancer Foundation.
The handover, which took place on Wednesday at GTT Brickdam, has brought the curtains down on the company's breast cancer awareness month observances.
The money also represents proceeds from a number of promotions that the company hosted in its efforts to raise awareness on breast cancer and funds that it had committed to supporting the Guyana Cancer Foundation.
GTT Marketing and Public Relations Consultant, Samantha Gooding, said the company remains committed to its social responsibility and will continue with similar efforts to raise awareness. She thanked the hundreds of volunteers and thousands of participants who supported the "Pinktober" events.
She reminded that the fight against cancer goes beyond the month of October and encouraged persons to look out for others who are involved in the fight, signaling GTT's continued commitment.
Guyana's First Lady, Ms. Sandra Granger during the handover event yesterday, applauded the company for its efforts and encouraged Guyanese to start putting their health first. She said at the end of the day, the health of citizens is important and one must take that seriously.
"I am very happy that GTT has come on board because too often we have been saying that people do not understand the importance of early testing. So I urge you; especially our younger people, to start having early annual check-ups, that is how you capture all the… infirmities that you might have at an early stage… I urge you women, especially in relation to breast and cervical cancer; put yourselves first," she said.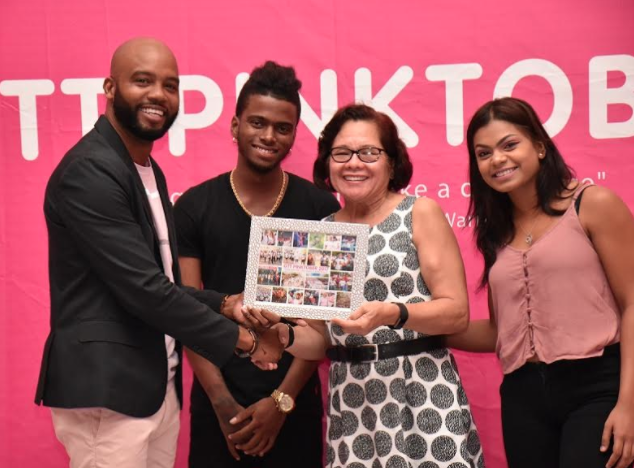 The First Lady further commended GTT for their tremendous Pinktober initiative and encouraged other members of the corporate community to emulate their example as cancer affects all segments of the population.
"I hope that GTT can influence other members of the corporate community to follow them in this practice of corporate social responsibility," she said.
The Guyana Cancer foundation through its founder Bibi Hassan, thanked GTT for its cancer awareness initiative and said she looks forward to future partnerships.
She said the funds will be used to expand the range of support services her organisation provides, which will include prostate cancer screenings in the new year. She also commended GTT for endorsing her organisation's programmes and for utilising its corporate capacity to raise awareness about the prevalence of the disease in Guyana.