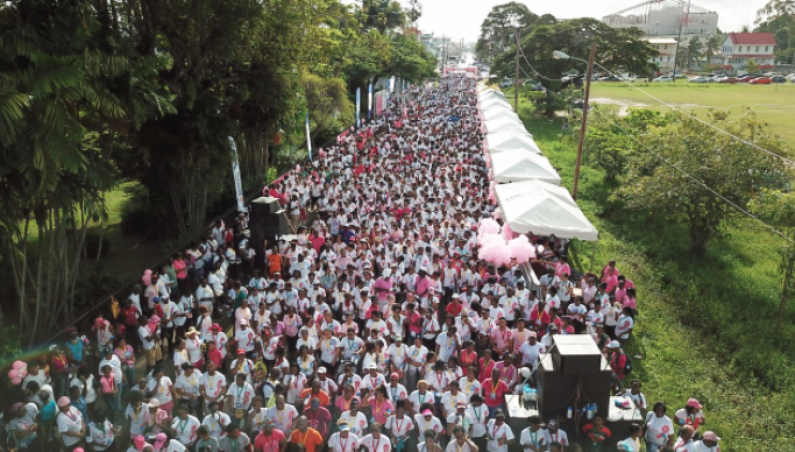 Over 5000 persons braved the early Saturday morning sun to raise awareness on breast cancer as part of GTT's inaugural 5k/10k "Pinktober" run and walk.
October is celebrated as Breast Cancer Awareness month globally.
Saturday's event was the largest breast cancer awareness walk to have ever taken place in Guyana. Many cancer survivors as well as persons who lost family and friends to cancer, joined in on the awareness activity.
A number of Government ministers and members of the Diplomatic community also joined the thousands at the event.
GTT served as the main sponsor and organizer of the event, while several other companies partnered in the activity. Banks DIH, Starr Party Rentals and JSL International were among the other sponsors.
As part of the awareness promotion, GTT sold "pinktober" packages which saw over 3000 persons buying those packages. $500 from each sale will go towards the Guyana Cancer Foundation.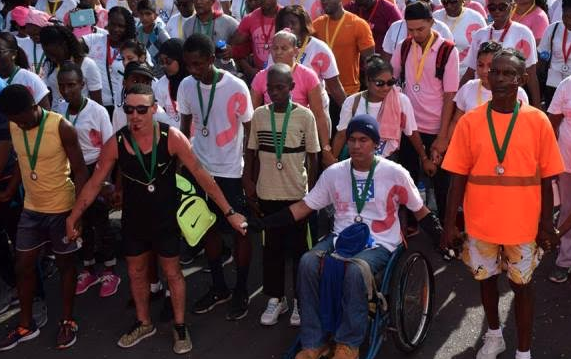 Medals were presented to the first 2,000 persons who crossed the finish line. Trophies were also presented to several categories of participants. One of the highlights of the inaugural walk/run was the release of 2,000 helium balloons in recognition of all those who have fought cancer.
There was also the formation of the human cancer ribbon in the Parade Ground.
GTT, Chief Executive Officer, Justin Nedd, said that the company's vision will see it continuing to play a special role "in the hearts and minds of communities as part of GTT's mandate to do more".
As part of its "Pinktober" observance, GTT has also recognized the work of many persons who fought and continue to fight to raise more awareness of cancer.
Breast cancer is one of the leading causes of death of women in Guyana.