The Guyana Prison Service is observing its anniversary, which has come at a time when the service continues to see many of its Prison Officers being involved in the smuggling of prohibited items into the jail houses across Guyana.
Almost every week, raids would be conducted at the various prisons and prohibited items would be discovered during those raids.
Just this past weekend, several cellphones, lighters and a quantity of marijuana were discovered during a raid of the New Amsterdam jail.
At a Sunday ceremony to mark the Prison Service's anniversary, Minister of Public Security, Khemraj Ramjattan issued a call for prison officers to speak out when they see their colleagues going astray.
He said remaining silent about wrongdoings cannot be something good.
"Silence is violence. We shut our mouths to the wrongdoings and it will reoccur, so we must speak out. And the greatest of services and the greatest of organisations and institutions, are made up primarily of individuals, who upon seeing wrongdoings, speak out".
He said prison officers must hold themselves up to a high standard and let personal integrity guide them, adding that they could have the best working environment, but would still need to showcase more integrity.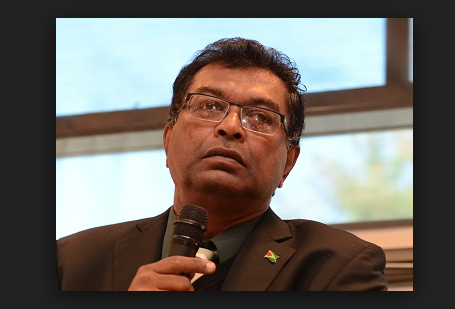 Acting Prison Director, Gladwin Samuels revealed that so far for this year,  the Guyana Prison Service has dismissed twenty-eight (28) ranks.
Eleven of those dismissals were related to trafficking activities.
He also revealed that currently, there are twelve (12) ranks interdicted from duty, nine (9) of whom are charged either departmentally or criminally for trafficking-related activities.
"Let them remind themselves that in Guyana we say: "Time longer than twine!"
To ensure success in many areas, we need a purpose-driven strategy. This is a strategy that uses purpose to drive, integrate and evaluate everything an organization does so as to ensure it creates its desired future. A purpose-driven strategy involves changing the core of the "how we do" strategy, from an outside-in strategy to an inside-out strategy", the Prison Director said.