The Cheddi Jagan Airport has released its performance report for 2016 and while it indicates a higher volume of passengers through the airport, the numbers related to the airlines might have some airline executives smiling while others fume.
In terms of the number of passengers carried during 2016, all of the airlines except Caribbean Airlines, saw an increase.
Copa Airways which flies to several destinations from Guyana via Panama, saw a 97% increase in its passenger lift. The Guyanese owned, Fly Jamaica Airways saw increases in passenger numbers shooting up by 79%.
Suriname Airways saw a 65% increase, Dynamic saw its passenger load go up by 23% and Insel Air saw a 16% rise in the passenger load from Guyana.
Caribbean Airlines, which has been serving the Guyana market longer than any of the other carriers, saw a 10% decline in its passenger load.
Although, Caribbean Airlines may be seeing less Guyanese passengers choosing its service, it still maintains the largest share of the Guyana market by operating the most daily flights into and out of the market.
Additionally, while many of the other airlines have been adding more seats by using larger aircraft or putting additional flights on the schedule, Caribbean Airlines has not been changing its schedule much and has been using the same type of aircraft consistently.
Travel agents believe that Caribbean Airlines' ticket prices and its baggage and duty free restrictions may be the reason the airline is seeing less passengers using its service.
Agents from three different travel agencies told News Source that they are also seeing passengers choosing the other airlines over Caribbean Airlines, and in almost all of those cases, the passengers point to the baggage allowance and not having to stop in Trinidad as the main factors behind their decision.
Most of the airlines flying into Guyana from the US allow passengers to check in two suitcases at 50 pounds each along with a carry-on which could carry up to 20 pounds.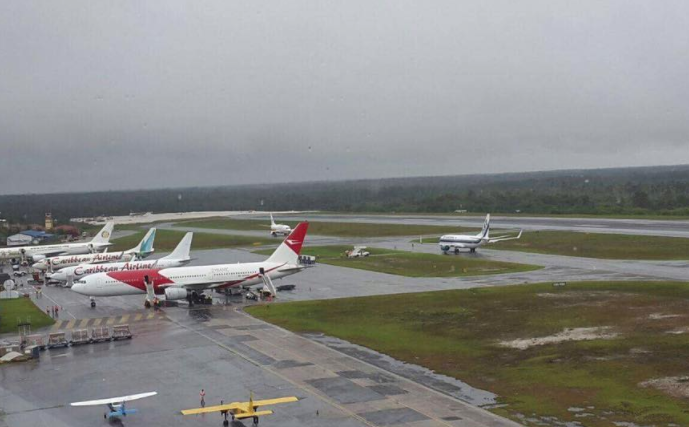 Caribbean Airlines allows passengers just one free checked piece while there is a fee attached to a second checked piece.  The airline allows a carry on piece for free.
Then over the past years, Guyanese passengers heading to the US have been complaining about their duty free liquor being taken away and dumped in the Trinidad during their connection.
Caribbean Airlines has been blaming measures put in place by the Trinidad and Tobago Aviation Authority, while that Authority has said it is following U.S civil aviation rules.
In an effort to still allow Guyanese passengers to take their duty free liquor, Caribbean Airlines with agreement and approval from the Cheddi Jagan Airport, introduced a system whereby, passengers would be allowed to make their duty free purchases and then go to a secured part of the airport to place it into their checked bags.
Many passengers have described that system as a hassle.  The Caribbean Airlines flight which has been performing well is the daily one which originates in Trinidad and in-transits in Guyana before going on to the U.S.
The Cheddi Jagan Airport reported yesterday that 2016 saw the highest number of passenger movement through the airport in decades.  Guyana's jubilee celebrations saw hundreds of Guyanese returning home.