Management at Guyana's Cheddi Jagan International Airport has issued a warning and a threat to Caribbean Airlines following ongoing complaints from passengers and duty free concessionaires about their duty free items being dumped in Trinidad once bought in Guyana.
For several months, passengers leaving on Caribbean Airlines would complain that their duty free items would not make it to their final destination.
In an effort to remedy the situation, the CJIA decided to have a "sterile" and secured area where passengers who would have purchased duty free items, be allowed to place those items on their checked bags under security from both the Airport and the Airline.
The move by the Cheddi Jagan Airport management did not find favour with the regional carrier, which never instituted the measure even after consultations with all stakeholders and security personnel at the airport.
CAL's decisio has now resulted in additional complaints from the passengers and the duty free shops at the airport.
In a letter to Caribbean Airlines, management at the Cheddi Jagan Airport warned that unless the airline makes move to remedy the situation within 21 days, "the CJIAC will be at liberty to proceed to cancel the Air Carrier Agreement under Article 9.3".
Sources close to the airport have told News Source that the airport management took the step as a last resort, but it needed to have the situation rectified since it continues to affect concessionaires and passengers.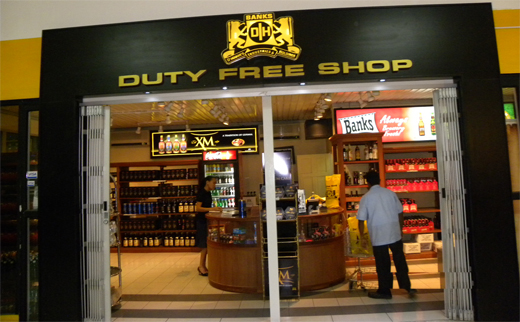 Passengers who travel on direct Caribbean Airlines flights to Trinidad are not affected. However, passengers who would be in-transit in Trinidad would be told that because of Transportation Security Administration rules, they will not be allowed to go through security at the Piarco Airport in Trinidad with their duty free liquor from Guyana.
Some airlines plying other destinations that would include in-transit flights would usually cater for the duty free items by allowing storage in their own facility until passengers are ready to board. Caribbean Airlines has not made that offer.
A senior executive of a company which has a duty free concession at the Airport, explained to News Source that the problem has been ongoing for "too long" and has been affecting sales for the company at the airport since many passengers would now opt to buy their duty free during their stop over in Trinidad and "even in Trinidad, there is a very limited amount of Guyanese products available at their duty free shops".
Caribbean Airlines is the oldest airline flying out of Guyana. It has served Guyana for more than 50 years, beginning from the time it was BWIA.