The issue of GECOM's preparedness to host elections within three months following the passage of a no-confidence motion came up for questioning before the Caribbean Court of Justice today, as the Court heard oral arguments in the appeal of the no-confidence cases.
The Attorney representing the Guyana Elections Commission, Senior Counsel Stanley Marcus, was grilled by the Judges of the CCJ, who wanted to know why the Elections Commission would not be ready to host elections within the three months after a no confidence motion.
The Attorney reminded the Court that the Constitution of Guyana caters for a period of longer than three months, but that would have to be decided by the National Assembly. To that point, the CCJ President, Justice Adrian Saunders questioned whether GECOM should not always be in the ready, taking into consideration that a no-confidence motion could be brought at anytime.
Justice Saunders said "the Elections Commission is independent yes, and it would have its own strategic plan, we're going to do this, and we're going to do that, but the Constitution allows for a sudden situation where suddenly, in disruption of all your well laid out plans, elections must be held within three months because a vote of confidence or a vote of no confidence has taken place and as a result the natural consequence under the Constitution is that there must be an election. It seems to me that the Commission must at every stage, put itself in a position of where within a three-month time frame, it is able to handle an election, because that is always possible".
The Attorney told the Court that he believes that the provision in the Constitution also caters for members of the National Assembly to be acting in a responsible and mature manner that would allow for GECOM to be properly ready to host the elections. Senior Counsel Marcus said it is the responsibility of GECOM to always ensure that elections are free and fair and it would need time to ensure that.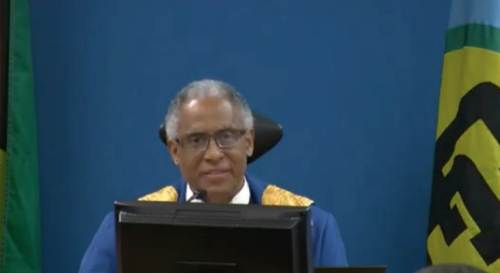 Further quizzed about GECOM's readiness, Mr. Marcus told the CCJ that the Elections Commission had written to the President outlining a timetable for the possible early hosting of elections and also requesting money for the elections. He said while GECOM is independent, it is still dependent on the National Assembly for funding.
Justice Saunders told the Attorney that it appears that GECOM should also ensure that if a situation occurs that is outside of the norm, the Commission should make itself ready to hold elections in a short period.
Attorneys for Chartered Accountant Christopher Ram argued before the CCJ today that the Guyana Elections Commission should be instructed by the CCJ to host early elections if it agrees with the appeal.