Embattled former Government Member of Parliament, Charrandass Persaud has admitted that days before he voted along with the opposition in the no-confidence motion against the government, he was  inquiring about the purchase of  a large quantity of raw gold.
In a forum in New York over the weekend, Mr. Persaud, who is also an Attorney, joined the forum by teleconference and told the audience that it is true that he was negotiating for the purchase of gold, but claims he was doing so for clients.
"I have clients who are still looking for gold and so I was negotiating with a couple of dealers, finding out price, what it will take if you buy the gold in Guyana of if they ship it and we pay for it and we receive it in Canada", Persaud said.
The recalled Member of Parliament, who was also thrown out of the Alliance For Change after his no-confidence vote, ran off to Canada the morning after his no-confidence vote.
He also told the New York forum that he sees nothing wrong with his gold purchase inquiries from major dealers.
Persaud questioned whether there was anything wrong with him inquiring about raw gold.
"They said I wanted to buy gold. What is wrong with a piece of gold. Anyone of you would love a piece of gold, raw gold, from one of the miners so you could make jewellery for your son, wife or grandson", he told the audience.
Text messages seen by News Source just after Charrandass Persaud fled Guyana, showed him inquiring about the purchase of US$1 Million worth of gold and offering to meet gold dealers to finalize the purchase.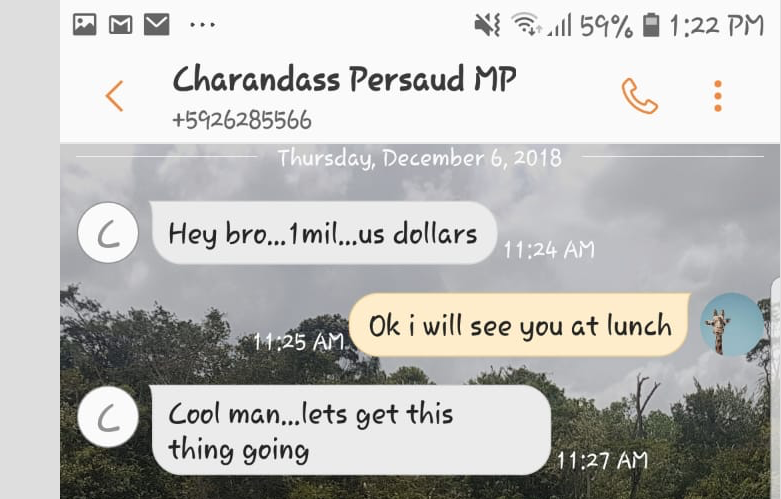 "I need to get this project off the ground", Persaud told his friend in the text messages, as he related that "we need to get this thing going" and revealed that the planned purchase was in the sum of US$1 Million. The gold purchase plan was being made between the 3rd and 12th December.
In those conversations with his friend who was close to the mining industry, it is believed that Persaud also referred to the gold as casareep and said he wanted the "real" one and not the "diluted one".
Over a period of days, Persaud and the friend made arrangements for him to meet the gold dealers, with the friend even meeting him outside Parliament. 
The Guyana Police Force has since confirmed that it has launched an investigation into Charrandass Persaud and that investigation is being treated as a national security issue.
Police investigators have since questioned a number of the gold dealers that Persaud was in contact with. The Police Commissioner has promised to host a press conference to provide information on "The Charrandass Probe".
Persaud has repeatedly said that he was not bribed for his vote. He now says he is willing to undergo a lie detector test.
When News Source broke the story about his US$1 Million gold purchase plans, Opposition Leader Bharrat Jagdeo called a press conference to attack the News Source report as "fake" and even waved around documents, that he claimed, shows how easy it was to make fake text messages.
Despite Jagdeo's defence, Charrandass Persaud never denied the report. His admittance over the weekend marked the first time he spoke about the gold purchase plans since the story broke over two weeks ago.