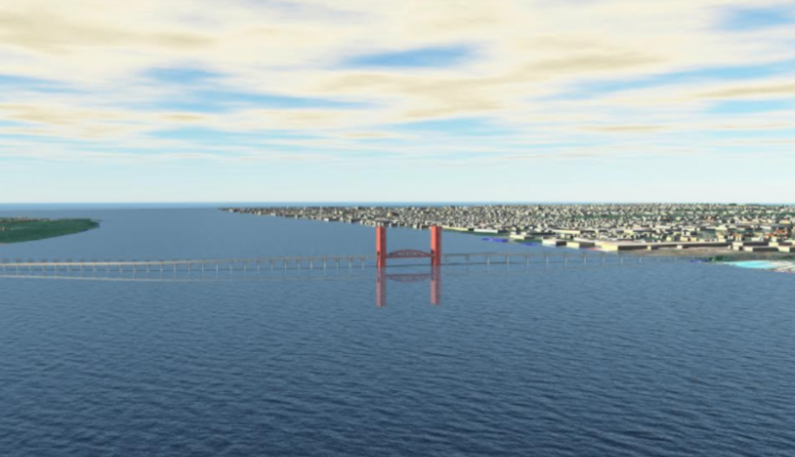 The China State Construction Engineering Corporation has been approved by the Guyana Government to build the new Demerara Bridge at a cost of US$256.6 Million, the Ministry of Finance announced last night.
Initially, nine companies submitted bids for the construction of the new four-lane bridge across the Demerara River.
The selected company will design, build, and finance the bridge.
According to the  Finance Ministry, the financial terms and conditions would be no less favorable than those submitted in the company's price proposal.
Though a financial breakdown of the proposal was not given, it was announced that "China State Construction Engineering Corporation Ltd under the DBF model contemplates a construction cost of US$256.6 million, the lowest amongst all bidders."
Once completed, the Government is adamant that the new bridge will be a critical link that will boost economic activity across the country.
"The new bridge will offer easy connectivity to both the existing East Bank Demerara Road as well as the new Diamond to Ogle bypass on the eastern side of the River and to the existing West Bank Demerara Road and the new Parika to Schoonord Road on the western side of the River. The new bridge will also offer critical connectivity to the new Wales Development Authority which will be a major centre of productive activity when it comes on stream," the statement from the Finance Ministry said.
Once completed the new Demerara Harbour Bridge will boast of bridge collision protection, navigation span to accommodate Handymax vessel Navigation aids, lighting, signage, and all other ancillary works, access road with a minimum of 50 meters up to abutments and toll collection buildings and ancillary buildings on the West Bank of the Demerara River.
When completed the new Demerara Bridge will replace the current Harbour Bridge which was commissioned in 1978. 
The new bridge is expected to land at Nandy Park on the East Bank of Demerara and Meer Zorgen/La Grange on the West Bank of Demerara and should be completed in two to three years.