Mayor of Georgetown Ubraj Narine today fired back at the City Engineer who has claimed that the recommendation for him to be fired is purely political.
Mayor Narine dismissed that contention and armed himself today with scores of documents to show that the City Engineer Colvern Venture has repeatedly ignored requests and instructions of the Council related to various projects and undertakings in the city.
The Georgetown City Council earlier this week passed a motion to recommend the firing of the City Engineer. It is now up to the Local Government Commission to act on the recommendation.
The Mayor today said the Council will not be taking the blame if the Local Government Commission fails to act and problems continue with works in the city.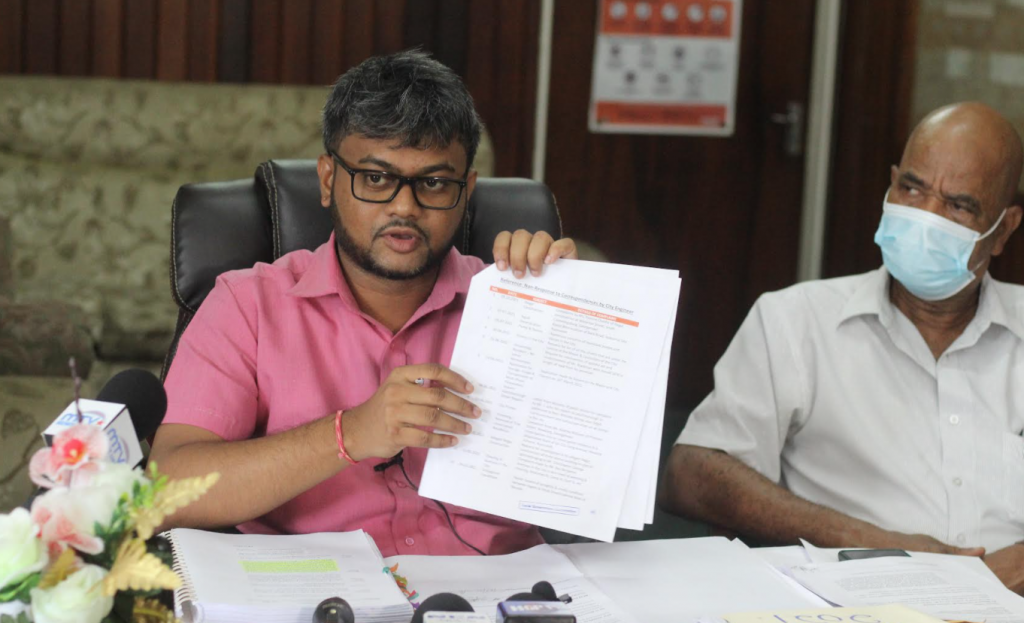 "The Council will not take the blame for any flooding in the city anymore… the Council will not take the blame for anything, flooding in the city or other matters. Those people who come for their (building) plans and so on, I will take the information and write the Local Government Commission about how we will have to deal with those matters.
The Mayor said the City Engineer has become a law onto himself and the Council will no longer allow blame to be thrown at it over his issues.
"The Council did our part because we are fed up. We have been accused on many occasions by Government wrongfully, we have passed a decision, written to Mr. Venture on several occasions and nothing has been done. Why blame us wrongfully? We did our part and it is now with the Local Government Commission." Mayor Narine said.
The Mayor explained that for the past three years, the City Engineer was contacted via letter about several urgent matters that fall under his department and many of the letters sent to him were ignored and the problems left unsolved.
"We give you chance, chances I would say to correct yourself and you are not doing that, what you left the council to do to just entertain a motion, with all the facts. If this wasn't there, if these facts and evidence were not there I will say the council was wrong, Mr. Venture because you don't have evidence…but you have the evidence." the Mayor said.
He said the management of the important City Engineer's Department has been bad under the leadership of Venutre, and it is now time for new leadership in the department.