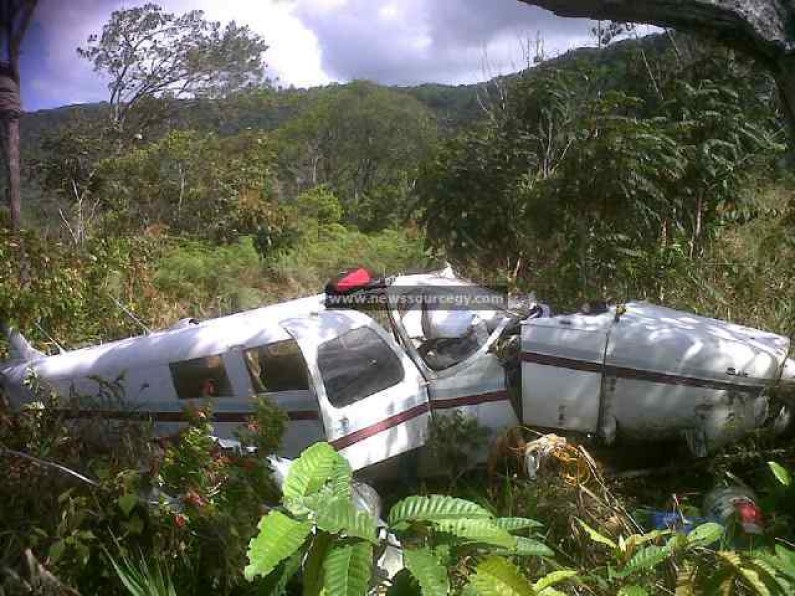 As the probe gets underway into the circumstances surrounding the crash of a single engine aircraft just after take off from an airstrip in Arau in Region Seven, Investigators intend to focus  most of their probe on the engine of the aircraft.
The aircraft has been badly damaged and it is unlikely that it could be fully repaired to return to the skies.
Four persons including the pilot were injured when the small plane crashed into a forested area moments after take off. Reports indicate that it was as if the plane just fell from the sky. The injured persons were all air dashed to the city after they were extracted from the crash site by a rescue team which was led by the Guyana Defence Force.
The plane was being flown by Pilot Bernard Singh who has several years of experience flying to interior locations. The small aircraft was bought in the United States and flown to Guyana in 2011. It has been making several short trips to interior locations and to mining areas over the past few years.
The investigations are expected to look at several factors including the weight of the aircraft at the time of the crash as well as its service records.
Over the past year, there have been a number of accidents involving small planes. Earlier this year, a pilot and a ground handler died when the aircraft they were travelling in, crashed into a heavy forested area. The probe into that accident is also continuing.