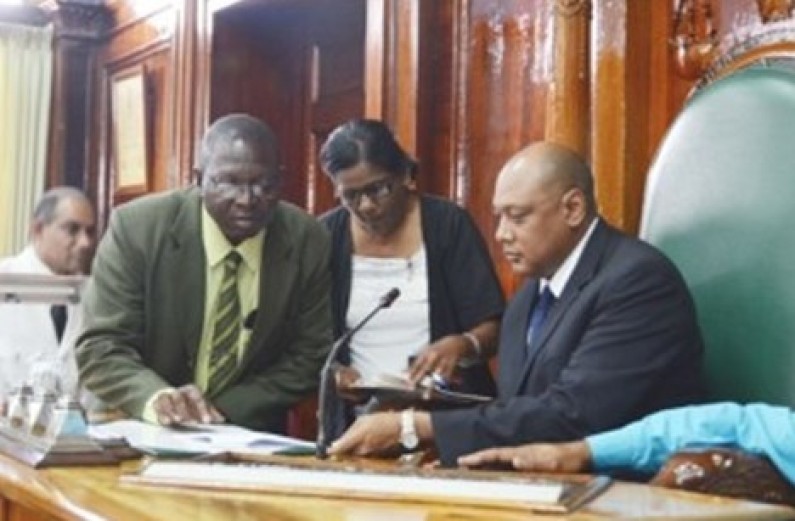 The Clerk of the National Assembly, Sherlock Isaacs, is sticking to his guns that it is only the Government that could request that a Sitting of the National Assembly be convened and he has made it clear to the Speaker Raphael Trotman that he cannot grant his request for arrangements to be made for a Sitting of the National Assembly on November 6, 2014.
The Clerk has made his latest decision known to the Speaker and the Leaders of the political parties in the National Assembly. News Source understands that Isaacs sent letters out about his decision on Wednesday to the Speaker and the political parties.
Isaacs  is of the view that in the present circumstances, the Speaker does not have the power under Standing Order 8 (1) and (2) to request that arrangements be made for a Sitting of the National Assembly. The Clerk consulted with several Parliamentary Clerks from across the Caribbean before penning his latest decision.
The Speaker had written to the Clerk instructing him to begin preparations for a Sitting of the National Assembly on November 6, 2014.
In that letter, the Speaker pointed out that "there is gridlock, and we are faced with the untenable and unhealthy situation of the National Assembly not meeting since July 10, 2014. I am sure that you will agree with me that this cannot be allowed to continue any longer as there is no state of national emergency or otherwise that prevents the Assembly from not meeting. In fact, on the contrary, I make bold to say that there are myriad issues of national import that require our immediate attention."
Both of the Opposition Parliamentary Parties, A Partnership for National Unity and Alliance For Change believe that the Speaker has the authority to request a Sitting of the National Assembly.
The Alliance For Change is waiting on the Sitting to be convened so that it could move its motion of no confidence against the Government of Guyana. With the APNU's support for its passage, the motion could force the government to call national elections within three months. The AFC has already indicated to the government that it could run but would not be able to hide from the no confidence motion.
Filed: 29th October, 2014