The Panamanian based Copa Airlines has announced that it will begin service between Guyana and Panama and other connections from July of this year.
The airline will initially offer twice weekly service between Guyana and Panama. Passengers will be able to book connecting flights to other Copa destinations including New York, Miami, Washington, Los Angelas, Las Vegas and a number of other U.S Cities. Additionally, connecting flights to Toronto, Canada and Mexico will be offered.
Copa Airlines also flies to several destinations across the Caribbean and South America.
The announcement comes at a time when Guyana is looking to attract more tourists and have other airlines plying the North American markets. Currently, Caribbean Airlines and Fly Jamaica are the only carriers serving the Toronto market from Guyana. The same two airlines along with Travel Span offer services to the New York market while Caribbean Airlines and Suriname Airways are the only two carriers currently flying between Georgetown and Miami.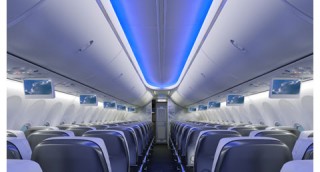 At the announcement of the service launch, the airline's Sales Manager, Guillermo Gómez said "Guyana is a dream come true for us and a great achievement on the way to consolidate as a strong and leading airline in the regional market" He added that "with this decision we expect to contribute significantly to the development of the local Guyanese tourism industry and to provide the Guyanese with safe travel possibilities and an exciting destination offer."
According to the Sales Manager, "the flight Guyana – Panama will start to operate on July 11, twice a week, on Tuesday and Friday, with world-class service, young aircraft and the best digital services to make the finest travel experience for our users."
The Government of Guyana as part of the agreement to have the airline serve this market has decided to offer 90 days visa waivers for citizens of Panama, Peru and Costa Rica. Citizens of those countries will now be able to visit Guyana without a visa and spend up to 90 days in the country once approved by immigration.
The Guyana Government believes the move will strengthen ties between Guyana and other countries in Latin America while at the same time providing affordable air links to destinations across North and South America and Latin America.
The airline currently operates over 300 daily scheduled flights to 65 destinations in 29 countries in North, Central and South America, and the Caribbean. It is also the main operator and owner of Colombian airline AeroRepublica, currently known as Copa Airlines Colombia.
Copa Airlines was founded in 1947 and is the national flag carrier of Panama. It operates with 90 aircraft.