Two men have been taken into custody following the discovery of an M-16 assault rifle and two magazines and 60 rounds of ammunition along with 2 grenades in the South Ruimveldt area. The names of the men have not been released as the probe continues.
According to a police report, just after 11 o' clock on Wednesday morning, ranks of a Police motor cycle Anti-Crime patrol observed the two men walking along Aubrey Barker Road, in South Ruimveldt and as the Police patrol approached, one of the men pelted a bag he had in his possession into the nearby bush.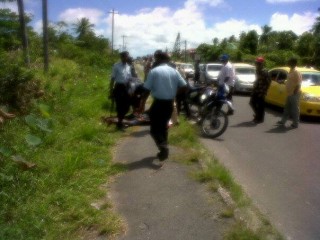 The Police officers stopped the two men and when the bag was retrieved, the M-16 assault rifle with the ammunition were discovered along with two grenades.
The police motor cycle patrol called for back up and a number of other policemen arrived on the scene.
Reports out of the South Ruimveldt area state that the men may have been walking to a nearby taxi service when they were stopped by the police and the discovery made.
According to the Police, the two men are in custody assisting with investigations.
.