The Bank of Guyana on Tuesday confirmed that it has received a number of reports about persons making attempts to pass off counterfeit $5000  bills.
At least one commercial bank has filed a report with the Central Bank after an attempt was made by a customer to deposit several counterfeit $5000 bills.
Banking Manager at the Bank of Guyana, Leslie Glen told News Source that although attempts were made by persons to pass off the counterfeit bills, swift detection countered those efforts. He explained that at least one man has been arrested and is expected before the courts to face charges.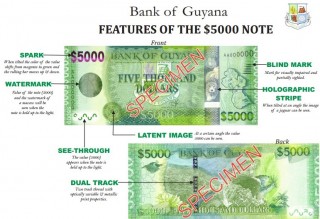 "It is important for persons to be reminded of the penalties attached to making and knowingly being in possession of counterfeit money. Being in possession could lead a person to 14 years in jail while manufacturing counterfeit money could lead to life imprisonment", the Banking Manger said.
He said it will be important for the law to be followed and for action to be taken against those involved in the manufacturing and distribution of the counterfeit money.
Glen said it was surprising that counterfeit bills are showing up less than one week after the new $5000 bill went into circulation but he admitted that taking into account the value of the new bill, the bank was prepared to deal with any problems. He said swift detection is key in tackling the problem.
Employees of a number of commercial banks were part of a training programme just before the new bill was released, to educate them of the security features of the new note and how they could recognize counterfeit notes.