Senior Officials connected to the search and rescue operations for the Trans Guyana aircraft which was seen going down in the Olive Creek, Mazaruni area have reported that the crashed aircraft has been spotted by the Guyana Defence Force helicopter and ground troops are moving to the crash site.
The troops are being lowered close to the area by the GDF helicopter.
News Source understands that the crash site was spotted just after 12 noon on Sunday as the search and rescue operations narrowed the searing area which is densely forested.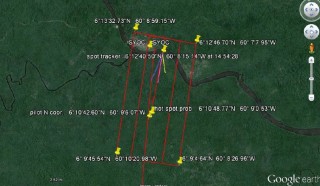 The Trans Guyana Cessna Caravan aircraft had just taken off from Olive Creek and was heading to Imbaimadai when it was seen going down.
There were just two persons on board, the pilot who is a Canadian national and a cargo handler who worked out of the Ogle Airport. It is unclear they survived.
Search and Rescue operations started less than an hour after the first report of  the crash was received, according to the Guyana Civil Aviation Authority.
The GCAA is coordinating the search and rescue efforts along with the Guyana Defence Force and other organisations.