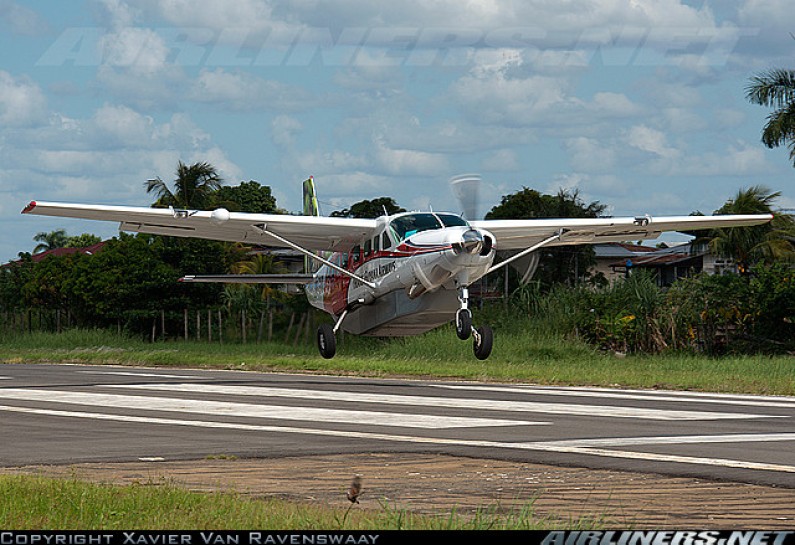 As rescue teams continued their search and rescue operations on Saturday afternoon for the Trans Guyana aircraft and its two occupants that went down at an interior location, the Guyana Civil Aviation Authority has explained that the aircraft was spotted going down by other pilots who were flying over the same area at the time.
In a statement the GCCA reported that just before 11 o' clock on Saturday morning, "Air Traffic Control received a message from another aircraft indicating that Trans Guyana Airways 700, Cessna Caravan on a shuttle operation between Olive Creek and Imbaimadai was going down."
The aviation authority said several calls were immediately made by other aircraft but were all unsuccessful.
A search and rescue team was immediately activated bringing together the Guyana Defence Force and a number of other agencies. "The Guyana Civil Aviation Authority Rescue Coordination Centre (RCC) was immediately activated by the Air Traffic Control Centre.  The GDF, Police, Minister Benn and GCAA and CJIAC staff reported to the RCC", the statement said.
The Aviation body said the aircraft with its registration number 8R-GHS departed Olive Creek for Imbaimadai with the pilot and one other person on board. Two other aircraft that were in the area commenced reconnaissance immediately over the area, according to the GCAA.
"Based on the last spot tracker information along with coordinates from the aircraft prior to going down, an area of interest was plotted and crews were briefed in the RCC. The area identified is in the remote, densely forested area in the vicinity of Olive Creek, mid Mazaruni", the statement added.
The area where it is believed the small aircraft crashed is heavily forested and it could take days before rescuers reach the actual site of the crash. The operation is ongoing.