Demerara Club cricketer 23-year-old Carlyle Barton was on Thursday afternoon remanded to prison after being charged for the murder of 39-year-old Durban Street resident Shawn Nelson. Barton was not required to enter a plea to the indictable charge.
The young man stood quietly before Magistrate Suelle Lovell as the murder charge was explained to him. A number of his relatives and friends gathered inside and outside of the courthouse for his appearance.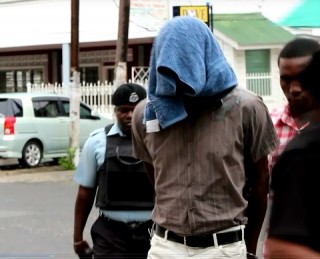 arriving
The Prosecutor told the Court that although the Police moved to institute the murder charge, investigations into the matter were still ongoing and statements from witnesses were still being collected. The Director of Public Prosecutions recommended the charge of  murder.
Police investigators were able to view a video recording of the incident which was captured on the surveillance cameras of a shop close to the scene of the crime. The same video was aired on an evening newscast.
The cricketer who is being represented by Attorney Mark Waldron hid his face from the media cameras as he hurried out of the Magistrates' Court.
He will make his next court appearance on June 7, 2013.