The Director of Public Prosecutions has advised that local cricketer Carlyle Barton be charged for murder in the shooting death of Durban Street resident Shawn Nelson. Barton is expected to make his first court appearance on Thursday morning at the Georgetown Magistrates Court.
Police investigators spent most of Wednesday examining the surveillance video recording of the incident which took place on Orange Walk, Bourda on Sunday morning.
The video which was carried on one of the nightly television newscasts in Georgetown, clearly shows Barton whipping the gun out of his side as he walked towards his car, cranking it then firing a shot at Nelson who was approaching from the opposite direction on the other side of the car.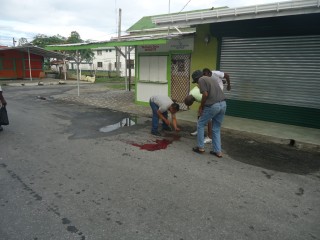 Nelson fell to the roadside just next to the parked car. The shooter fumbled with his car door before calming jumping into the car and driving away from the scene. He surrendered to police the same day after crashing the car into a power pole.
A post-mortem examination performed on the body of Shawn Nelson on Wednesday morning found the war head from the bullet lodged in the man's brain. He died the day after he was rushed to the hospital. He never regained consciousness.
Sources close to the investigation have told News Source that the young man appears confused over what really took place and has even been denying the incident although he was caught on video. There are a number of eyewitnesses who have also identified him and the car he was driving.
Relatives of Shawn Nelson have said they cannot understand the reason behind Barton's decision to shoot the 39-year-old man. The two were known to each other and the cricketer was a regular visitor to the Durban Street house where Nelson lived. Investigators also want to know who may have provided the young cricketer with the weapon since he is not the holder of a firearm license.