As the Christmas season draws near, security efforts countrywide are being intensified and President David Granger believes that Guyanese can look forward to a safe and comfortable Christmas season.
The President expressed this view on Friday during a radio interview.
With mounting complaints from the public about Guyana's crime situation presently, the President expressed the view that "the crime situation is not as bad as it is being made out to be."
This view has been supported by the Guyana Police Force (GPF) which recorded a 21% decrease in serious crimes at the end of September when compared to the same period last year. Additionally, Crime Chief, Wendell Blanhum has reported that there has been a decrease in piracy attacks.
And according to the President, the decrease in crime can be credited to actions taken at three levels.
First, he explained that the presence of mounted patrols have increased, particularly in Black Bush Polder and in the Rupununi where the Government hopes violent crimes will be brought under control.
Secondly, he referenced an ongoing joint operation by members of the GPF and GDF (Guyana Defence Force) whose presence on the ground has been increased. This joint operation commenced November 15 and will continue until January 15.
Another phase of this joint efforts are prison raids, which the President said is a move to support the Prison services.
"We have taken more decisive actions to look at the prison situation. There have been recurrent threats of disorder and lawlessness in the prisons. And the GDF and the GPF were engaged in a joint operation to support the prison authorities to remove illegal weapons and cellphones and ensure that there is no disorder in the prisons" he said.
Just last week the Joint Services conducted Operation Safe Guard at the Georgetown and New Amsterdam prisons and seized a large quantity of contraband. Among the items seized were 22 cellular phones; 558 grams marijuana; nine packets of cigarettes; eight cellular phone chargers; a quantity of zip lock bags; 45 lighters; a quantity of bamboo wrappers; a quantity of wine; 21 weapons; four cellular phone batteries; one arrow; two pairs of scissors; $300 cash; TT$200; four grabber hooks; five gallons of home-made wine; 20 razor blades; five sim cards and one tattoo machine.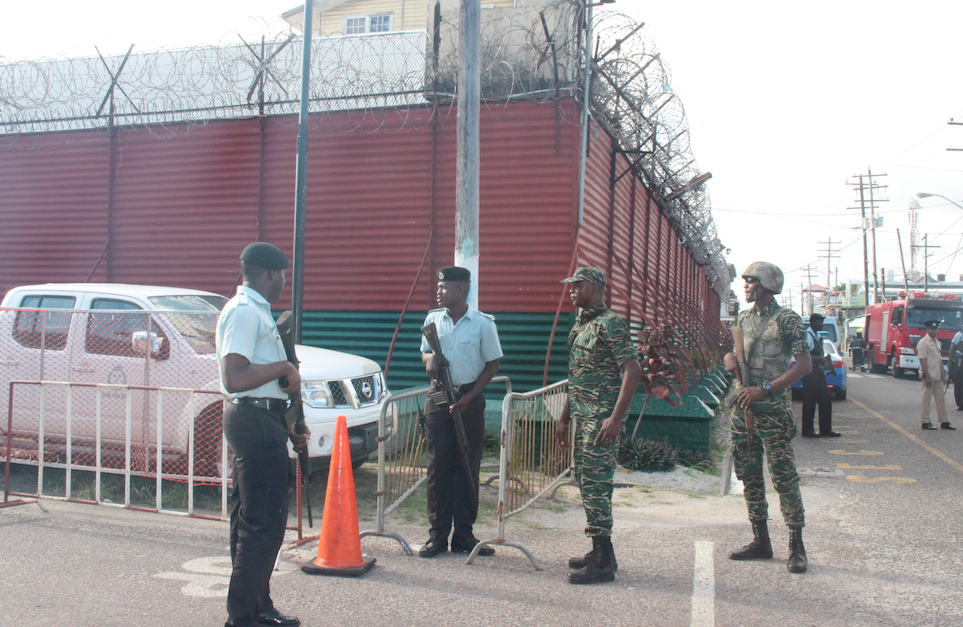 On the third level, President Granger pointed to the strengthening to the Guyana Fire Services (GFS) which was recently awarded $77M by Cabinet for the procurement of fire tenders and ambulances.
This, the President said, is in light of some recent reports of arson.
As such, he believes that the strengthening of the Joint Services will increase its capacity to further reduce crime and Guyanese can look forward to a safe and comfortable Christmas.
"So in those three main services – Police, Prison and Fire Service – we are better prepared. So I think the Guyanese people can look forward to having a safe and comfortable Christmas" he said.