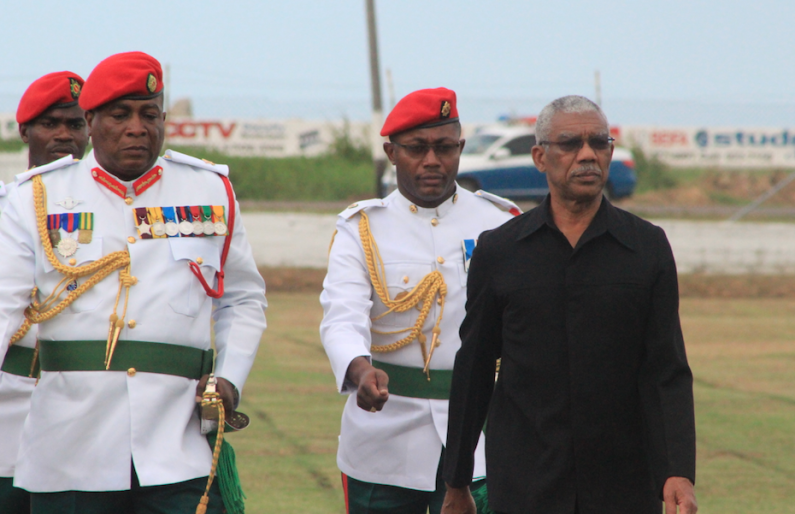 Guyana's President and Commander-in-Chief of the Armed Forces, retired Brigadier David Granger, has dismissed criticism from former President Donald Ramotar over the new government's handling of the crime situation.
The APNU+AFC coalition headed by the President was elected to office six months ago and has faced a rising crime situation in the country.
Earlier this week, former President Ramotar chastised President Granger over the crime situation and said that he believes it is time the President brings out the army to join the crime fight.
But in an interview on Wednesday afternoon at Army Headquarters, Camp Ayanganna, President Granger brushed off Ramotar's criticism and said as a former President, Mr. Ramotar should not be concerning himself with national security and military matters.
"I believe that Mr. Ramotar as a former Head of State, maybe he should not comment on current political activities. As Commander-in-Chief and Minister of Defence, I have given certain instructions to the army and I think the best thing would be for Mr. Ramotar not to interfere in the way the Guyana Defence Force is being administered", the President said.
According to the President, he will decide when and if the army comes out to support the police based on his own judgement. He said he meets with the Chief of Staff of the Guyana Defence Force "every week and I am fully aware of what needs to be done in order to deal with the Defence situation that Guyana finds itself in at present and also the crime situation and I have given instructions to both the Police Force and the Defence Force".
He said he is well advised on the matters and he is confident that his instructions are in the best interest of the nation.
Asked whether he is satisfied with response of the security agencies to the crime problem, Mr. Granger said he is seeing more arrests and charges of persons involved in crime and better investigations by the Criminal Investigations Department of the Guyana Police Force.
He is convinced that the government will be on top of the crime situation within the next six months. The President also reminded that the crime problems being experienced at the moment were inherited by his administration.
The Guyana Police Force last weekend said crime was not spiraling out of control even as there has been an increase in robberies and murders.
The Police Force has started to dispatch more patrols across the city and the Public Security Ministry is expected to set up more CCTV cameras across the city.