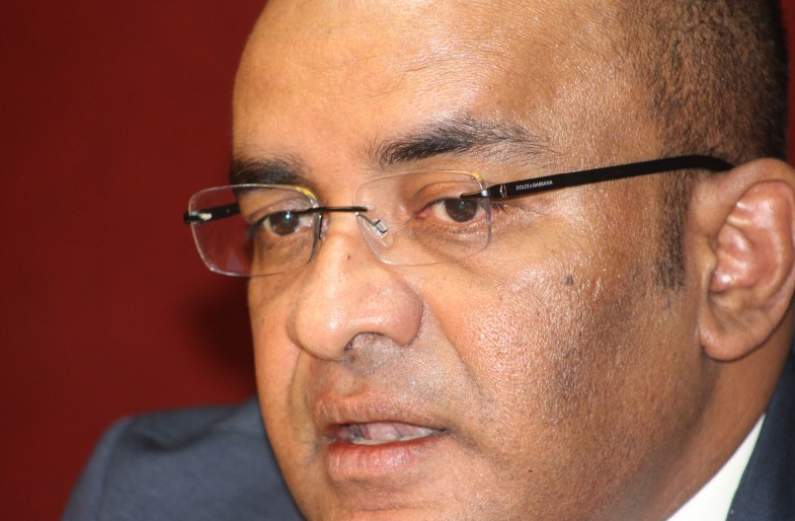 Opposition Leader Bharrat Jagdeo, while welcoming the Government's announcement to conduct Commissions of Inquiry into the crime spree, believes that the probes must be comprehensive and have international jurists serving on the Commissions.
The crime spree took place between 2002 and 2008 under the Jagdeo presidency. Over 1400 Guyanese were murdered during that period.
In a full statement on the announcement last evening, Mr. Jagdeo said he has seen the "reluctance" of the government to offer specifics or periods related to the crime wave and he fears that there may be a move to use the inquiries to polorize the society.
"I believe that not wanting a comprehensive inquiry is an act of desperation by the Coalition Government to polarize our society.   Having failed to deliver on their promises of 'clean government', jobs for young people, etc. the Granger-cabal is returning to 'old politics' to polarize our society.  Guyanese society has known and remembers the efforts by the PNC to polarize our people", Jagdeo said.
The Opposition Leader and former President went on to state that "if anyone has an apology to make to our Afro-Guyanese community, it is the Granger-cabal that allowed a village, which was known for its progressive attributes, to be captured and held hostage by criminals and allowed the atrocities committed on many of the young men and women of that village".
President Granger was not involved in active politics during the 2002-2008 period. But Mr. Jagdeo is of the view that the government should apologise to all the other victims of the criminals that were labeled as 'Freedom Fighters'.
"The fact is that many of the current leaders in the Coalition Government were complicit in many of these crimes. Guyanese still recall their publicly announced quest to make the country un-governable – a declaration made in Buxton. For political gain, the polarization of our people was the driving force of old politics"
The Opposition Leader said he is making himself available to the government to provide an input in the crafting of the Terms of Reference for the Commissions.
However, he noted that "this is providing that the Coalition Government is interested in ensuring that such an issue is dealt with in a bi-partisan manner."
According to Jagdeo, "I maintain that once a Commission is credibly constituted it will be supported by the PPP/C. In the meantime, I am of the view that our people must not be distracted by this, more so as the acts of corruption, failures and incompetence under the Coalition Government continue to be exposed by the political Opposition."
Members of the first Commission to look into the crime spree period will be sworn in this morning.