People's Progressive Party member and former Office of the President staffer under the PPP, Jason Abdulla was on Thursday Afternoon taken to two city hospitals after claiming that he was beaten by police investigators while in custody.
Abdulla claimed that he was beaten on his feet by the police while being held and questioned about the murder of political activist Courtney Crum-Ewing.
He was first taken to the Georgetown Public Hospital and subsequently to the Woodlands Hospital to seek medical attention and an opinion to support his claims.
Crime Chief Wendell Blanhum said a doctor reported that the detainee was unhurt. "The only reason they put on the bandage is because he complaining that he has injuries at the bottom of his feet but since he does not have anything to verify that, he decided to put on the bandage," the Crime Chief Explained.
He said the X – Ray machine at the GPHC was not working and Abdulla was taken to a second hospital before returning to the police station.
The Police applied to the High Court today for an extension to continue holding the four men who were arrested by the police earlier this week.
Crime Chief Wendell Blanhum confirmed the police's intent this morning, but would not offer any details on what leads the police were following.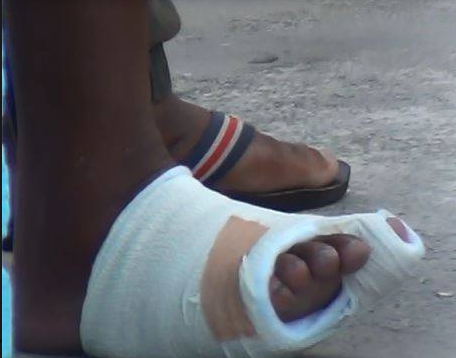 Former Press Officer at the Office of the President under the PPP government, Kwame McKoy, was taken into custody late Wednesday by the Criminal Investigations Department. The others in custody are self-confessed former member of the phantom death squad, Sean Hinds, PPP member and former Office of the President staffer, Jason Abdulla and a third man Okenny Fraser.
Hinds and Abdulla were seen being transported at the back of a police vehicle in Georgetown on Thursday. Abdulla has been in custody since Monday while Hinds was arrested on Tuesday. Although one man, Reagan Rodrigues, was already charged for the murder, Police investigators have been continuing their probe as they are convinced that others were involved in the hit.
Crum-Ewing was gunned down on March 10, 2015 while using a loud hailer in the Diamond community to encourage persons to vote against the PPP. He was shot multiple times about the body. (Kurt Campbell)