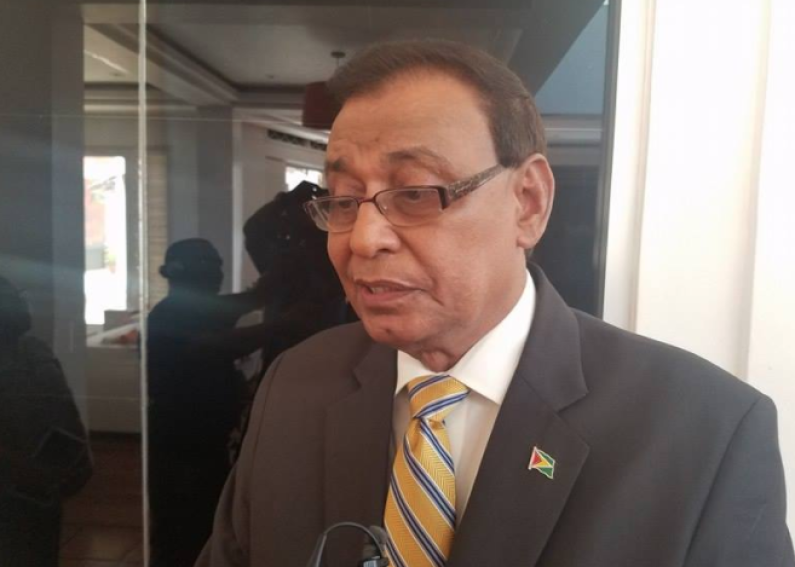 Guyana's Ambassador to Cuba Mr. Halim Majeed has announced the resuscitation of old trading relations between Guyana and Cuba.
Mr. Majeed is currently in Guyana at the ongoing Heads of Missions Conference. He seized the opportunity to appraise Guyanese on economic diplomacy between the two states.
Following his appointment, the Ambassador said he set out to focus both on reestablishing trade and economic relations and to seek Cuban support in the border controversy with Venezuela.
Already, Mr Majeed has engaged the Cuban Chamber of Commerce and the Ministry of Foreign Trade and Investment to explore how the two countries can resuscitate old trading relationship
"In past, Guyana was a good trading partner with Cuba but those relations had become dormant," Ambassador Majeed said as he announced the possibility of new avenues for business.
The former Deputy Chief Political Advisor to the late President L.F.S Burnham and Chief Political Advisor to the late President Desmond Hoyte said he was clueless as to why good trading relations were left to go to waste.
"When we came out of government we did not follow up on previous relationships with Cuba, I cannot say what went wrong but while trade relations had become dormant there were other areas of cooperation," he added.
Guyana and Cuba had maintained a cordial relation over the years, particularly in the area of medicine and engineering.
Ambassador Majeed also reminded that it was the late L.F.S Burnham who broke the economic blockade against Cuban.
"The Cubans don't forget history and they are mindful of this friendship… all it needed was good guidance to foster the friendship," he added.
The Ambassador said he has also spoken to the Cuban authorities about the border controversy Guyana shares with Venezuela.
"Cuba is placed in a special position because the neighbor with whom we have the border controversy has very close, almost intrinsic, relations with the People's Republic of Cuba," he noted.
The ambassador said because of the long and outstanding friendship, Guyana was listened to.
He said the commitment was given by the Cuban government that Guyana will be given priority when acquiring fruits and vegetables.
There is already market in Cuba for Guyana that would allow Guyanese to export food related products.
"Cuba is very interested in buying our rice. Right now, Nand Persaud and Company is an approved supplier to the Cuban Government so now they are making arrangements to finalize the rice transaction with Cuban." (by Kurt Campbell)