Representatives of the Parliamentary Sectoral Committee on Social Services on Thursday heard of overall improved conditions at the East Demerara Regional Hospital, commonly referred to as the Diamond Hospital.
The Sectoral Committee, during a tour of the facility, also heard of inadequate medical supplies and medication, lack of key equipment and poor infrastructure.
Headed by Chair and Opposition Parliamentarian, Dr.  Vindhya Persaud, the Committee engaged doctors at the facility with the aim of later compiling a report for submission to Parliament which will, in turn, improve the delivery of healthcare at the facility.
Notably absent were all government representatives on the Committee which include Ministers Raphael Trotman, Valerie Patterson, Dr. Karen Cummings and Valerie Garrido-Lowe. All four opposition representatives were present.
Quizzed by the Opposition MPs, Medical Superintendent, Dr. Maite Camacho said among her major challenges were the absence of key equipment such as x-ray machines and the lack of proper infrastructure.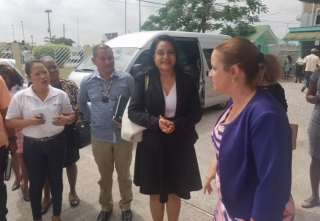 She reported that while the facility is a diagnostic center there is still not enough space to adequately serve the patient population between Linden and Georgetown and to house Doctors.
Dr. Camacho, a Cuban national, also pointed out that while there was construction ongoing at the facility, those works does not address the shortage of space.
When asked about the supply of medication, Dr. Camacho was forced to reveal that there was no insulin at the facility for patients, except for emergency services. This has been the situation for the last two months.
There is also a shortage of other medication such as Panadol but the Medical Superintendent said in such cases there is alternative medication like ibuprofen.
"Sometimes we may not have one medication but we have another one, doctors know how to manage that," she added.
The Center is staffed with 16 General Medical Officers and 11 consultant doctors who also serve nearby health centers.
Dr. Camacho also reported that 3-4 surgeries are done daily and almost 50 on a monthly basis.
She reported that the center has been able to reduce its referral of patients to the Georgetown Public Hospital and in the future hopes to reduce it further. However, currently, all complicated pregnancies and major surgeries are referred.
The Sectoral Committee has the power to examine all policies and administration for the sector to determine whether the execution of Government policy is in consonance with the principle of good governance and in the best interest of the nation.
As such a report will be compiled and submitted to the Parliament for consideration.