The recently established Department of Energy in the Ministry of the Presidency has been tasked with reviewing all of the arrangements between the Government of Guyana and the ExxonMobil company.
At his press conference earlier today, President David Granger said while that review will take place, "once international contracts have been engaged, there is no question of removal or re-negotiation of those contracts, but we will move forward and continue to get the best advice before we engage in any other negotiations".
On Thursday, the Exxon company announced its ninth oil find in Guyana.
Even before that announcement and based on estimates from the previous eight discoveries, the company set the total discovery to four billion barrels of oil. That number is now expected to climb.
Under the contract, which was originally signed in 1999 under the PPP government, by renegotiated in 2016 under the present APNU+AFC government, Guyana will get 2% of the royalty from the oil and 50% of the profit.
Some international analysts have predicted that Guyana stands to benefit from annual income from the oil industry of more than US$6 Billion per year when production takes off. That figure could see a tripling of Guyana's economic growth rate within the first five years of oil production.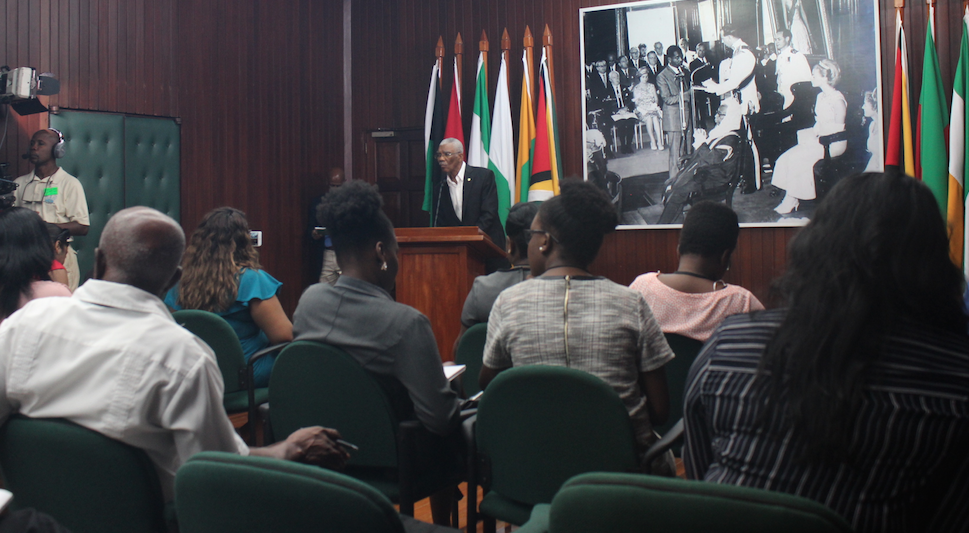 Still some local analysts believe that Guyana could have gotten a far better piece of the oil pie when the original contract was negotiated two years ago.
For President David Granger, the Government did "what was in the realm of possibility" at the time.
He told reporters today that the Government did the best that it could at that time of re-negotiation.
The President also told reporters that eventually, the Government will move to set up an entire Ministry of Petroleum Affairs or Ministry of Energy rather than just a Department in the President's Office.
Earlier this week the Government announced that the Department has hired a well-respected international oil and gas expert as its Adviser on the sector. The official who was born in Australia, worked in the oil industry in many of the top producing nations.
He will be based in Guyana.