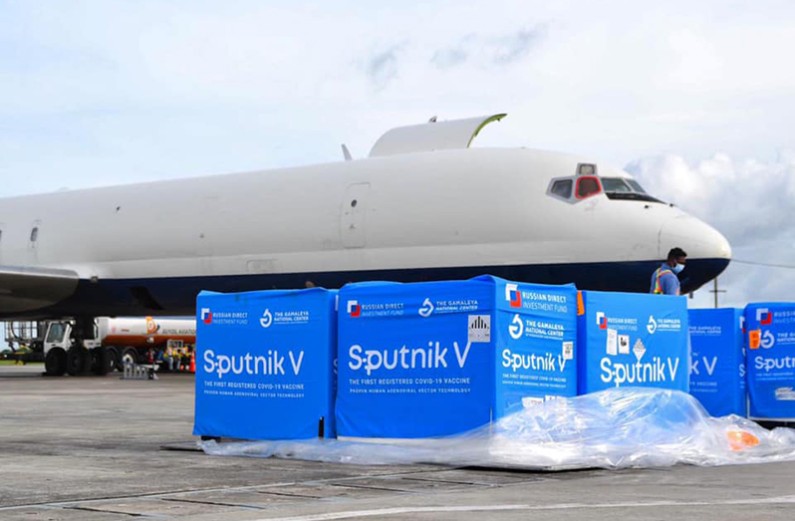 There are reports that the Government is making efforts to source the 2nd dose of the Sputnik COVID-19 vaccine directly from the manufacturer, according to sources within the Ministry of Health.
With thousands of persons across the country waiting on the 2nd dose and the middle-man supplier for the Government falling flat with accessing the supplies, the administration has reportedly decided to reach out to the Russian manufacturer directly.
The manufacturer has been running late on the Sputnik second dose vaccines and several countries are now in a line for the 2nd dose shots.
Guyana purchased more than 400,000 doses of the vaccine through a middle man company in the United Arab Emirates at double the price.
The supplier delivered over 300,000 first dose shots and just over 61000 second dose shots.
The vaccine requires two separate doses to provide maximum protection.
The Government had come under criticism recently from the Opposition over its decision to purchase the vaccines through a middle man at double the price.
The administration initially claimed that it was finding it difficult to make contact with the manufacturer directly to make the purchases.
Health officials have told News Source that the Ministry of Health was caught off guard when the last shipment of Sputnik vaccines arrived and it was all first doses. According to one official, the Ministry was expecting the second dose vaccine at the time.
Today, the Minister of Health would only say that efforts are continuing to source the 2nd dose shots. He is still unable to provide a timeline for the arrival but hopes the shots will arrive soon.
When the vaccine was first dispatched, persons were told that the second dose should be taken four weeks after the first. The manufacturer later extended that period between first and second shots to three months and has recently issued another update, indicating that the 2nd dose could be taken as long as 6 months after the first.