The proposed establishment of the JOF Haynes Law School in Guyana is among one of the big issues to be discussed when this country hosts the Executive Meeting of the Council of Legal Education this week.
At a press conference this morning, Attorney General Basil Williams told reported that Guyana will be pushing the issue of the law school at the meeting.
"We were supposed to lay over to the CLE, a Business Plan and Feasibility study and this has been done. They have it now and they are supposed to be reviewing it [with] the joint venture partners; the Jamaicans, they are here today and we are going to meet with the CLE tomorrow in relation to that", Mr. Williams said.
The Council of Legal Education is mandated by the CARICOM Heads of Government to preside over post graduate education of law graduates in the Caribbean and given Guyana's unique position and stage of development, the establishment of the JOF Haynes Law School has been deemed pertinent by the current administration.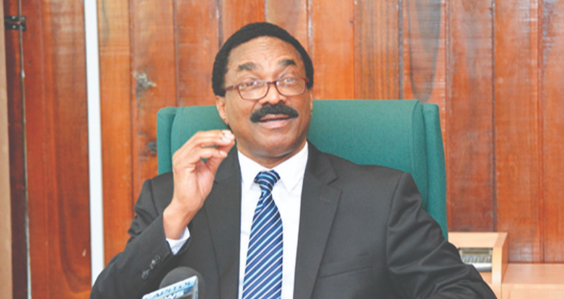 President David Granger is expected to deliver the feature address at the opening fo the CLE meeting.
The Acting Chancellor and the Attorney General are also expected to make remarks.
The meeting will be attended by Heads of Judiciaries, Attorneys-General and Heads of the Bar Associations from CARICOM Member States.
The Principals of the Normal Manley, Hugh Wooding and Eugene Dupuch Law Schools will also be present at the meetings.
Among the key persons attending are; Dr. the Honorable Lloyd Barnett, former Judge at the Caribbean Court of Justice Justice Duke Pollard, who will both deliver lectures on one of the evenings of the meetings.
The Council of Legal Education was established in 1971 by CARICOM Member States Barbados, Dominica, Grenada, Jamaica and Trinidad and Tobago, the University of the West Indies and the University of Guyana. (by Dennis Glasgow)