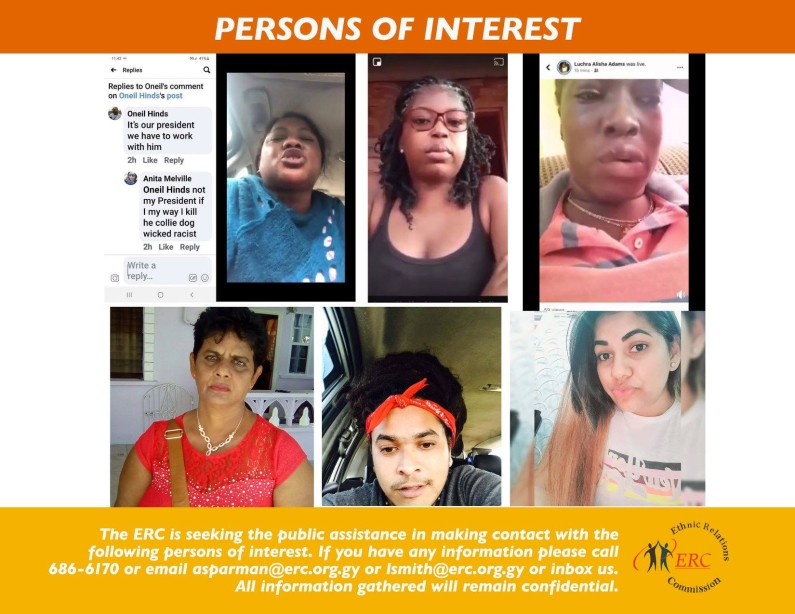 The Ethnic Relations Commission this afternoon announced a search for a number of persons it described as "persons of interest" in its efforts to crack down on racial incitement and racially insensitive statements on social media.
In a post on its Facebook page, the ERC highlighted screenshots of some of the concerning statements and social media posts, asking for any with information on the persons highlighted to contact the ERC.
Some of the statements were submitted to the ERC by concerned citizens while others were reportedly observed by officials of the Commission.
Over the past few months, there has been a noticeable increase in racially insensitive comments being made by a number of persons on social media, especially in relation to the elections.
Just recently, the ERC forced Social Media Commentator, Mikhail Rodrigues aka The Guyanese Critic, to issue an apology after he made a number of racist statements against Afro-Guyanese and also attacked the Christian community.
In many of the cases taken before the ERC, it would conduct an investigation, meet with the offending parties and request that they offer a public apology.
There have been calls by citizens for the ERC to become much tougher it how it addresses the the issues of race hate and racially insensitive and racist comments.
Under the laws of Guyana, it is a criminal offence under the Representation of the People Act, Chapter 1:03 and the Racial Hostility Act, Chapter 23:01 for anyone to incite racial hatred or violence against any person or against any segment of a society.