They were less than 30 minutes away from their Amelia's Ward Linden home yesterday, when tragedy struck and claimed the lives of well known Linden seamstress, Tessa Telford-Ibrahim and her son, Marlon McFarlene, who was an employee of Guyana Goldfields and former member of the Guyana Defence Force.
The two along with four other relatives were heading back home to Linden when tragedy struck.
According to a Police statement, they were all in a car being driven by a relative, 23-year-old Maisha Ibrahim when she lost control after driving into a pothole after crossing the Moblissa bridge.
The car spun out of control off the road and careened into a ditch, only stopping as it slammed into a tree.  Passersby hurried to the assistance of the injured.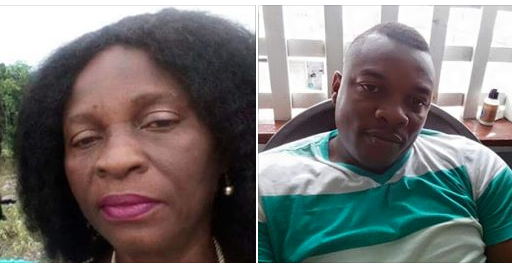 They were all rushed to the Linden Hospital where the 60-year-old woman and her 30-year-old son were pronounced dead, while the driver and two young children were admitted with serious injuries. One of the injured persons has since been transferred to the Georgetown Hospital for further care.
In its statement, the Police said the car was being driven at a fast rate at the time of the accident.
There have been several complaints about the condition of the Linden/Soesdyke Highway. The Government recently announced that it was seeking consultation services for major complete repair works that should be carried out soon.
The highway is 49 years old.