by Gordon Moseley and Kurt Campbell
Just as workers at the Gafoors Houston Complex were preparing to call it a day, they were forced to dash from the building after fire of unknown origin started to sweep through the complex on Monday afternoon.
The Fire Service was called to the scene just after 4 o' clock as thick black smoke quickly billowed from the building.
Workers said the fire appeared to have started in a section of the bond that houses fishing equipment. It quickly engulfed the entire bond area and headed towards the main complex.
Fire tenders rushed towards the scene from the main Fire Station and other stations across Georgetown. The heavy bumper to bumper traffic along the East Bank slowed their response, but once on the scene, the firemen rushed into action.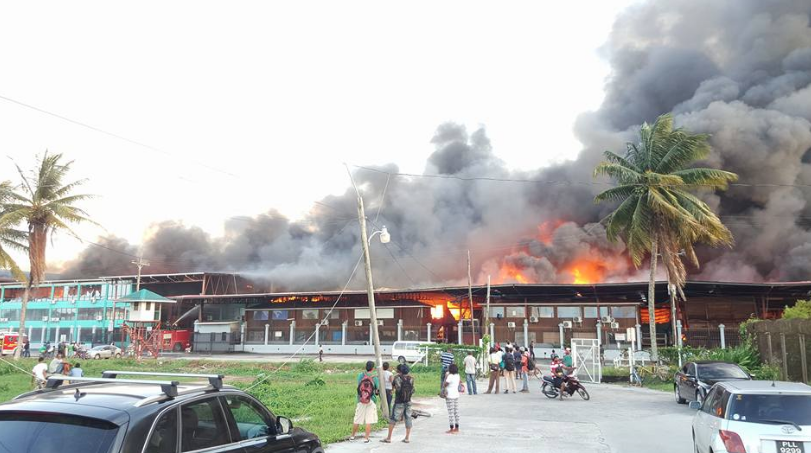 The Gafoors complex housed one of the largest bonds in Guyana and it was filled with tonnes of combustible material from plastic and rubber containers to paint and paint products. The presence of those items aided the fire, which was already being helped along by a strong afternoon wind.
Firemen were able to source water from a nearby canal as firefighters who were also off-duty hurried to the scene to render assistance.
But the fire appeared to be moving too uncontrollably for the firemen to contain. Two hours after the initial alarm, firefighters were still battling the blaze which had now moved its way to the main complex which houses several Gafoors stores.
The glass facade was shattered as the firefighters pumped water into the complex even as the fire maneuvered its way around the building.
Sitting across the access road from the blaze was a well composed Sattaur Gafoor who owns and manages the Gafoor company.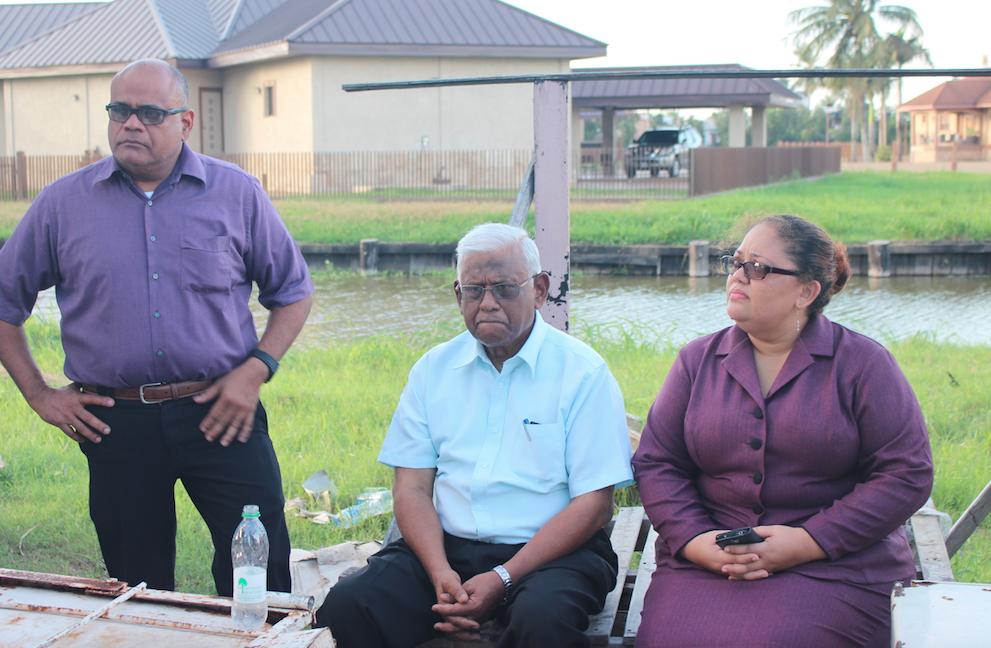 He explained to News Source that he was in his office at the same Complex when the alarm was raised and he hurried out of the building along with workers. There were well over 50 employees at work at the time.
While staring at the complex which was engulfed in flames, Mr. Gafoor said he could not put an immediate estimate to his losses but is sure it would have stretched into the hundreds of millions of dollars.
The Gafoors company is a household name in Guyana with over 60 years of service in the hardware industry.  The Fire Service will head the probe into the Monday afternoon blaze.