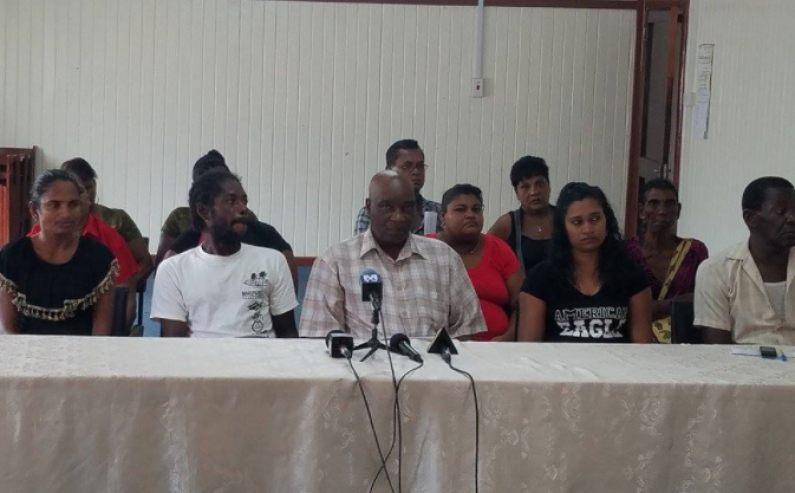 Almost one year after the closure of the Wales Sugar Estate, former employees are now complaining that they are unable to secure alternative employment as their severance pay is drying up.
The former estate employees are now lobbying the government for the provision of regular financial support in addition to the severance pay that they received.
Some categories of workers have also complained that while some of their colleagues were paid severance, cane harvesters and cane transporters are yet to be paid.
Gordon Thomas, former tug captain was unable to say whether a court cction filed by the Union was affecting this payment.
Backed by a group of former employees, Thomas told journalists during a press conference at the Guyana Agricultural and General Workers Union (GAWU), that for many of them, working at the Wales Estate was the only job they knew.
"We have had our dreams shattered and our hopes for a better tomorrow dashed. Today the communities of Wales are a far cry from what they were just a year ago. This year has been a time filled with misery, difficulty, and depression," he said.
Thomas said even workers who had used their severance pay to buy vehicles to do taxi work are now being forced to sell those vehicles.
He said too that in cases where employees have secured jobs at the Uitvlugt estate and elsewhere, they are confronted with lesser wages and reduced work opportunities.
"Breadwinners are not able to fully meet their family's needs. This is contributing to heightened anxieties and stress and giving rise to even further challenges in many households."
Cane cutters continue to demand their right to severance pay although the government continues to encourage those workers to take available jobs at the Uitvlugt estate.
GAWU has challenged the Guyana Sugar Corporation in Court on this matter but the workers say they remain disappointed that several months later, the matter is yet to be heard.
As the workers appeal to the government to intervene, they are reminding of the government's promise to have Wales Estate transitioned in the promised ventures of aquaculture, dairy farming, and rice planting among others.
The workers are adamant that the provision of appropriate financial support from the government could soften the hardship and allow them to face up to the challenges.