As the new work week started, more than 100 sugar workers from the Wales Estate, which was shut down last December, gathered outside the President's Office to protest efforts to have them transferred to the Uitvlugt estate.
The workers said they prefer to be paid their severance packages and head off into retirement, rather than to continue working for the sugar industry at the Uitvlugt estate.
"If they close down Wales, then pay we the money and let we go. We not going and work at no Uitvlugt. We got children to take care of, so give we the severance and let we go", one sugar worker shouted as he joined his fellow workers in the protest.
Another sugar worker, Suresh Seemangal, who has been working in the sugar industry for the past 37 years, told News Source he cannot continue working in the industry and would like to be paid his severance rather than take a job at another estate.
He said Uitvlugt is located is located more than 22 miles from the Wales estate, and moving to Uitvlugt would cause "more stress" to his daily life.
"Is long now I working there my brother, and I got 4 kids to send to school. I want me money. Nothing else. Let them pay we out and let we go and do we thing", another cane harvester said. He said he has been working with Guysuco for more than two decades.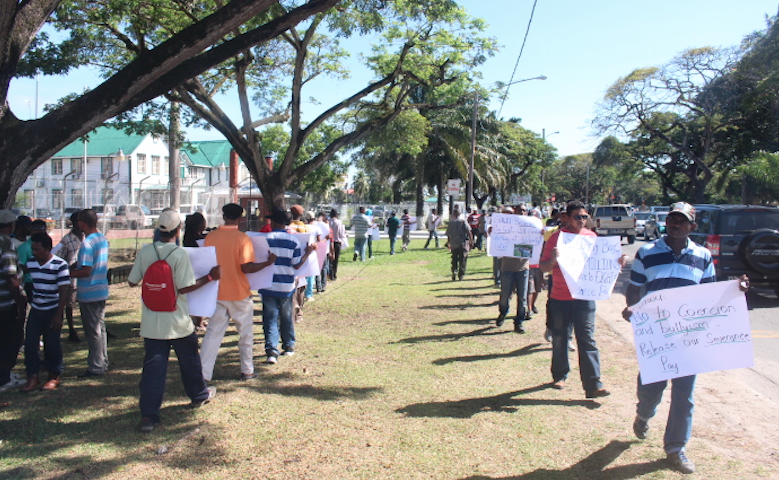 For 39 years, canecutter, Balram Kamaroo, has been working with the sugar industry. He said too old to be cutting cane now. I don't think it is right for them transfer me to Uitvlugt. Me too old to go and work there".
"We want we severance", the peaceful protesters shouted as they called on the President to intervene in the matter.
They complained that some representatives of the company have been making decisions about their future without consulting them and so while many are ready to pack up and leave the sugar industry, they do not believe that the message is being made clear to the company and the government.
Union officials believe the workers should be given the choice and if it is that they prefer their severance package over continuing employment, their choice should be considered and respected.
Guysuco has been heaping up billions of dollars in losses over the past few years. Despite many promising efforts to turn the industry around, it continues to face production and sustainability problems.