The Guyana Forensic Science Laboratory which was constructed at a cost of just over $1 Billion and opened in 2014 is not functioning presently, because of a number of technical and electrical issues.

The repair works are to be undertaken by IEB Security, a Barbadian firm responsible for installing security systems at the laboratory by way of a contract dating back to 2012.

The agreement also catered for the provision of additional consultation oversight.
But, the company was owed millions of dollars and the project came to a halt. But now, cabinet has approved a payment in the sum of US $32,524 to the security firm which is required to take certain steps to operationalize the laboratory.

Minister of State, Joe Harmon said the move will see the company coming to complete the laboratory including training for those persons working at the laboratory along with electrical installation among other things.

"We believe that once, this payment is made that within a month or so, this impression that I got from the Minister of Public Security that the lab should be up and running and there are several things which the lab has to do. It has to be able to look at DNA, crime scene, the analysis of evidence collected from crime scenes and so on" Minister Harmon stated.
 Minister Harmon could not confirm whether any kind of testing is taking place at the laboratory but said that the Minister's information to cabinet was that in order for the laboratory to be fully functionally the sum of money was needed for payment to the contractor.
The construction of the Laboratory came under the Citizen Security Strengthening Programme (CSSP). Under the second component of the CSSP, the Forensic Laboratory's effectiveness towards preventing and conducting criminal investigations fall. This component is being funded at the cost of US$5.5M through the Inter-American Development Bank (IDB).
The Guyana Forensic Science Laboratory was commissioned with the intent to enhance the investigative capacity of local law enforcement in crime and the prosecution of offenders, by providing quality, scientific evidence and expert testimony has been commissioned.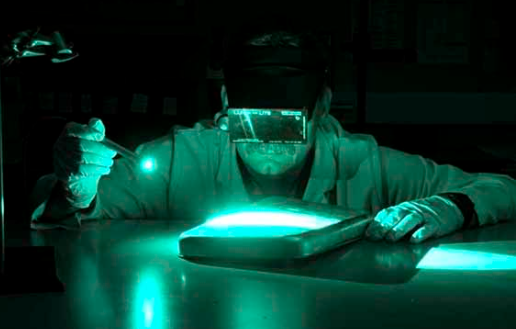 At the 2014 opening of the Laboratory it was noted that the laboratory is retrofitted with state of the art equipment and a highly specialized evidence recording system to keep track of all evidence submitted for analysis.
Then President Donald Ramotar had tasked the Ministry of Home Affairs with the responsibility of introducing some element of DNA testing at the laboratory.

The lab was required to specialize in the analysis of toxic substances, narcotic drugs, pharmaceutical drugs, alcohol, forge document and biological fluids.
The Forensic Science Laboratory consists of a main building comprising two floors totalling 12,000 square feet with four departments – chemistry; toxicology; document and evidence trace. Each of the four departments has six laboratories and an instrument room. The facility also consists of a single floor service building totaling 26,000 square feet.