As investigations continue into the Friday midday gunning down of GGMC officer Trevor Abrams, friends and workmates of the young man are convinced that his execution must have been a robbery gone wrong or mistaken identity.
According to a number of GGMC officers, the cold blooded killing of the 31-year-old mines officer sent chills around his Brickdam office. He was said to be very respectful and quiet and got along well with colleagues.
Some other GGMC officers believe that his death may have been linked to a robbery gone bad. The young man was expected to travel to the interior region on Friday afternoon for a six week stint monitoring operations in the mining community. On Thursday, he was given a cheque for $600,000 which was expected to cover his transportation, payment of cooking and maintenance staff and fuel costs for boats to be used by him during his time at the interior location.
He had just cashed the cheque at a Diamond branch of one of the commercial banks and was returning to the city when he was ambushed by two gunmen who reportedly cut off his path and opened fire on his vehicle. The young man after being hit, lost control of his car and ended up in a canal. The two gunmen made good their escape.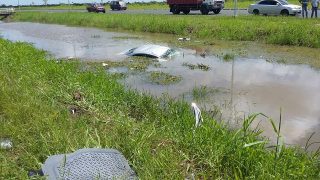 "Some of the boys here at GGMC would prefer to go to the banks on the East Bank to get away from the long lines and feeling more secured with the large sums of money. It might have been the money that they were after and those shots were probably to get him to stop but he ended up in the canal", one close friend said.
Another co-worker said "it has to be mistaken identity cause Abrams hardly even speak loud and he does not find  himself involved in any nonsense. He did his work good and was a good employee that no one had any trouble with or complaints for, he was a good kid".
Investigators are looking at all the angles as they try to crack the case. They intend to review video recordings from surveillance cameras outside the banks and along the East Bank of Demerara to see if the young man was being trailed.
The investigators are also looking to see if there might be any possible links to two recent shooting incidents in the city, although one police source said "linking this to those two other cases would be a stretch".
Filed: 28th February, 2015