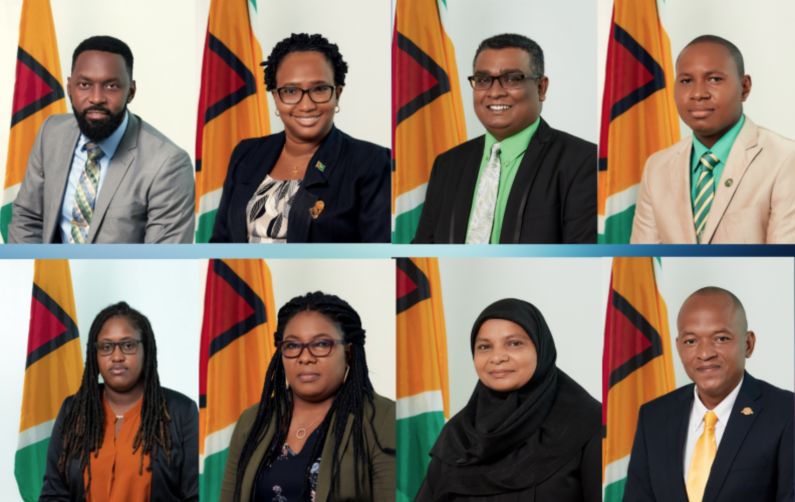 The Full Court, this afternoon declared that it had no jurisdiction to entertain an interim order that was being sought by the eight suspended Opposition Members of Parliament, who wanted the Full Court to reinstate them, while their challenge to the suspension was being heard in the High Court.
Delivering the decision on behalf of the Full Court, Justice Jo-Ann Barlow said the action placed before the Full Court was premature and pointed out that many of the issues that were raised before the Full Court are issues that are before the High Court in the original matter. 
She said it appeared as a premature appeal.
Before the decision was handed down, the two Judges of the Full Court, Justice Jo-Ann Barlow and Justice Sandil Kissoon grilled Senior Counsel Forde on whether the Full Court, could have granted the interim reliefs when the very issues have not yet been treated with in their entirety in the Court below.
In August, Justice Damone Younge, while hearing the case in the High Court, declined to issue the conservatory order sought by the suspended MPs, on the basis that the issue of jurisdiction must first be determined.
On Friday, Justice Barlow pointed out that "matters of jurisdiction" are still to be ventilated in the High Court.
In defense of the appeal, Mr. Forde explained that the appeal deals strictly with the refusal of Justice Younge to grant an interim order for the suspension of the MPs to be temporarily lifted pending the hearing and determination of the issue of jurisdiction.
"In the Notice of Appeal, Your Honours, we respectfully submitted that the Judge adopted the wrong approach in determining that issue, and that the court indeed had jurisdiction to grant an interim order," Senior Counsel Forde told the Full Court. In support of his argument, he pointed the Full Court to a number of authorities on the issue.
But the arguments put forward by the Senior Counsel were not convincing to Justice Barlow and Justice Kissoon.
"The remedies you seek and the intervention you seek from the High Court relate to matters in Parliament. Parliament is the highest court and forum in this land and there are a plethora of authorities on the limited restricted circumstances where the Supreme Court may probably intervene," Justice Kissoon told Senior Counsel Forde while referencing to the report and decision of the Parliamentary Committee of Privileges. He said that report was passed as a resolution in the National Assembly on the July 21.
Justice Kissoon said the Court must first satisfy itself that it has jurisdiction to intervene in the matter. He submitted that at least one of the international cases relied upon by the Senior Counsel does not support his case.
"How do we treat with matters when the issues are yet to be pronounced upon?" Justice Kissoon questioned.
Weighing in, Justice Barlow said in exercise of its discretion, the Court must take all factors into consideration.