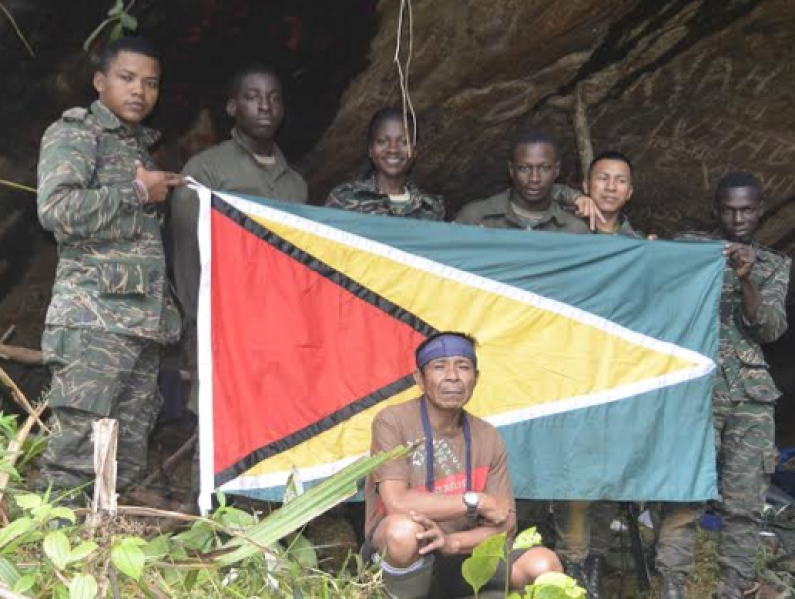 The Guyana Defence Force has announced that after nine grueling days, the members of the GDF patrol who participated in OPERATION ARROWHEAD returned to Base Camp Stephenson following their successful mission to raise the Golden Arrowhead on the summit of Mount Ayanganna, in observance of Guyana's 50th Anniversary of Independence.
The patrol which was headed by Lieutenant Wavon Samuels, included a lone female, Lance Corporal Shannon Cox. The other members were Lance Corporals Milton Isaacs, Teusimar Peters and Privates Kenroy Samuels, Chavez George, Collin Hinds and Winston Williams.
The patrol commenced on Wednesday May 18, departing Base Camp Stephenson by aircraft and flown to Chi Chi in Region 8 (Potaro –Siparuni). They continued by foot through the savannah and jungle terrain, to reached the foot of the mountain on Monday May 23. The patrol then began their assent to the summit of the mountain, and after two days of negotiating the mountain's rugged terrain, they successfully reached the summit on Wednesday May 25, where they hoisted the Golden Arrowhead at midnight.
The hoisting of the Golden Arrowhead atop Mount Ayanganna during Independence, is an annual feature dating back to 1966 when a party headed by the late Adrian Thompson, members of the Guyana Defence Force led by Lt Asad Ishoff, along with Amerindian guides, undertook the journey and planted the National Flag atop Mount Ayanganna.
In 1992 a female, Staff Sergeant (ret'd) Beverley Somerset, climbed the mountain, for the first time in our recorded history paving the way for other females to take on the challenge of conquering Mount Ayanganna. The Women's Army Corps made history again when 'all female' patrols climbed the mountain in 2005 and as recent as 2009. (GDF)