The Commission of Inquiry examining the state of veterans in Guyana, opened on Wednesday morning with retired Colonel of the Guyana Defence Force, Lelon Saul, issuing a call for the military to honour more of its veterans while preparing them for life after retirement.
During his hour long appearance before the Commission, Col. Saul highlighted the plight of many retired GDF veterans and said their situation cannot be ignored. He focused on the hardships many of them would face once they retire from military life.
He spoke of retired soldiers not being able to access a mortgage and being unable to build their homes on land provided to them, simply because they cannot afford it. He said the land should not be repossessed but rather the military could use some of its other resources to assist the retired soldiers to construct their homes.
The retired Colonel also recommended that more resources be used to prepare soldiers to take on different career opportunities once they leave the GDF. He said the situation must not continue when all that is left to offer the retirees would be a private security job.
He told the Commission that other government agencies should provide training and opportunities especially for those regular ranks who would have retired. Saul also called on the GDF to offer more attractive incentives while raising the bar for entry.
"You cannot ask persons to have a sound secondary education and then give them a nursery school test to enter the military".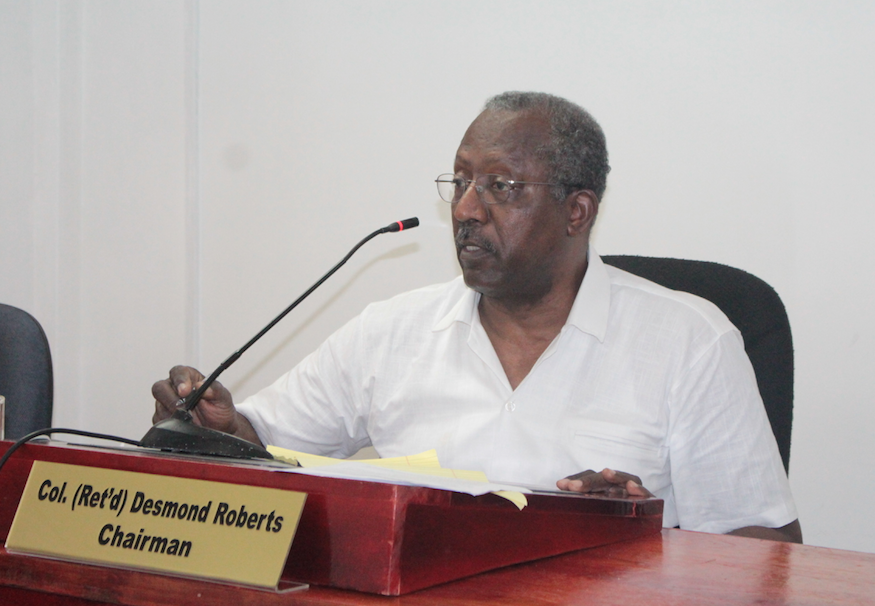 On the issue of honouring veterans, Mr. Saul told the Commission that the GDF has been very "stingie" in recommending and handing out national awards. He said after he served the military for over 25 years, he left without a national award under the previous government.
"I want my award", he told the Commission.
The Commission of Inquiry is being conducted by Retired Guyana Defence Force Colonel and former Director General of the Guyana National Service, Desmond Roberts. As part of his duties, he will have to examine, advise and report on the conditions and circumstances facing the Veterans of the Guyana Defence Force, the Guyana People's Militia and the Guyana National Service.
The Commission of Inquiry is in keeping with a motion that was taken to the National Assembly by then Opposition Leader David Granger, calling on the People's Progressive Party government at the time, to inquire into the manner in which veterans are being treated in Guyana.